halloween began this year on saturday. i had spent the previous 4-6 weeks trying to convince brian to decide what we would be costuming as so that we didn't spend the final pre-event moments running around like chickens with our heads cut off like we've done the last two halloweens.

so there we were, a mere six days before halloween day #1 standing in the old navy in tyler staring at the two remaining costume variants: chicken and purple monster. we picked up chicken as a back up though i was concerned we would see no fewer than one hundred children wearing the exact same thing. i was also hesitant because it looked like a little snow suit and we live in texas not to mention oliver was none too pleased once we had pulled on the pants and started trying to velcro up the jacket.

i also resurrected an age old halloween dream of dressing up as general zod and ursa. brian is obviously a shoe in for zod. destiny cannot be denied. frighteningly enough, i came to realize that, aside from a wig, i already possessed all the pieces needed to fashion the ursa costume. at some point, i collected enough bravery to see if i could squeeze my post partum ass and thighs into the black vinyl lip service pants which have lived almost exclusively in my closet since the year of 1995.

so squeeze i did and didn't even have all that difficult a time buttoning them up. granted, i didn't quite look like i did in them at the age of 22 and a camel toe was threatening to make itself known and a tray of muffins were peeking out from the top... but they were on.

i was also able to get in to the black shirt purchased even longer ago than the pants. these are the reasons i'm such a tremendous packrat. had i eschewed these items as i should have years ago, i would have had nothing ursa-like in which to dress.

i still wear the boots.

friday night rolled into town and we began looking for o's superman outfit. not much was to be found until, at the last target moment, i turned to see a superman dog costume that just happened to be in O's size. and... it had an extra pair of arms to boot. it didn't hurt that i had recently acquired a red diaper cover to go with his superman chaps.

saturday was spent renting a black piratey poet shirt for brian and perusing a wig shop in a nice spot in the ghetto. somehow, it has escaped me that many ladies of color apparently prefer wigs to their own hair. it certainly does make for some fancy wig shops.

we rushed home to get the belated pumpkin carving underway. much to my dismay, O preferred melting down to gazing cheerily upon his mother scraping goo from a gourd. so he took a nap on daddy instead.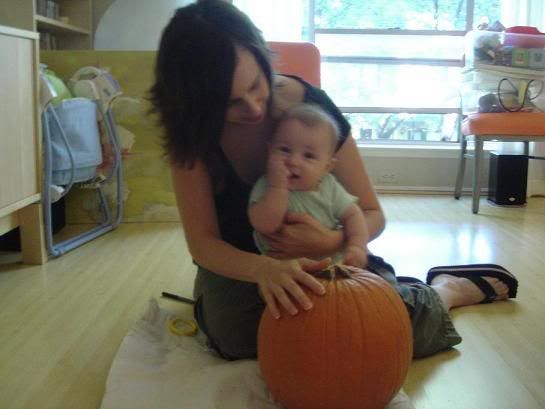 evening rolled around and while brian was running to the store to buy electrical tape, i started pulling everything on. he was buying electrical tape because i had discovered that the vinyl had begun peeling away from my pants after years of sitting unused. so i was just going to slap some tape on my crotch and hit the party circuit. but after much taping, i started remembering just how toasty those things are and i also kept seeing more and more spots that needed taping. i threw them off in heated disgust and grabbed the maternity pants brian had decided not to wear. they weren't as sassy, but damn if they weren't more comfortable. i wouldn't have fasted all day if i'd known i would be wearing those bad boys. and once they were tucked into the tops of my boots, they worked just about as well. the wig made me look a bit like florence from the jeffersons and it made O giggle at me, but it was close enough. then brian had the brilliant idea to use the tape to make the vinyl stripes on our shirts.

we arrived at dave's house-in-progress about the same time as everyone else. after everyone piddled about and piddled in the backyard and tried to keep from falling through the hole in the bathroom floor, we learned that we would be going to the neighborhood's lesbian bar and grill before the actual party. brian and i already knew this spelled no party for us. we gulped down two lone stars each as O's dis-ease began steadily increasing ending in the crescendo of our departure. though it was only a paltry 10pm or so, it felt like a full night to our entertainment-deprived selves.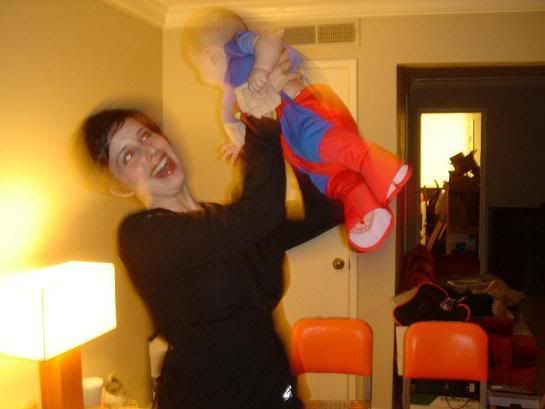 *i'm horrified that five people thought that was my hair. i'm horrified because they all went on about how super terrific it looks. either they are a) always lying to me about how super terrific my hair looks or b) they think i look super terrific as florence from the jeffersons or as a suburban housewife.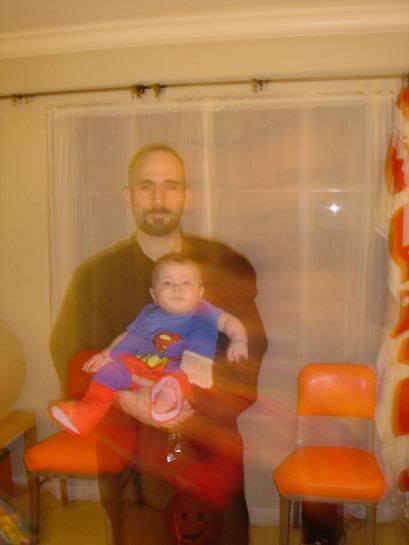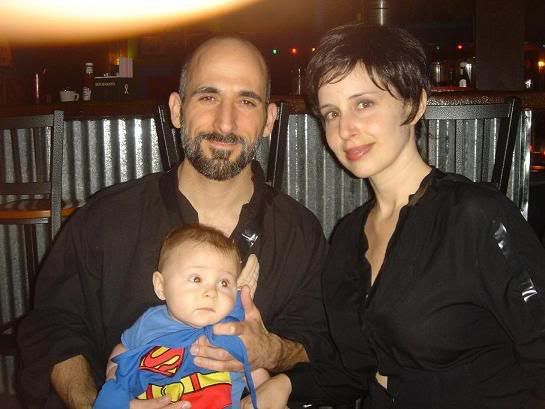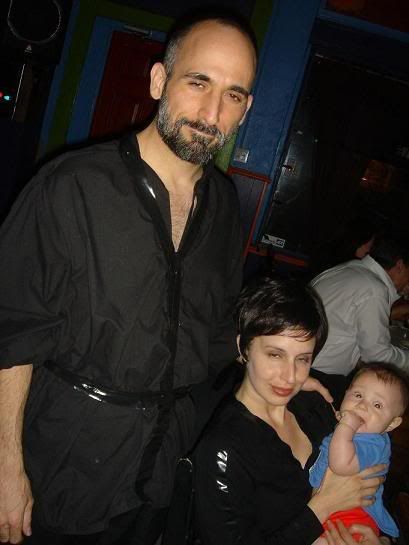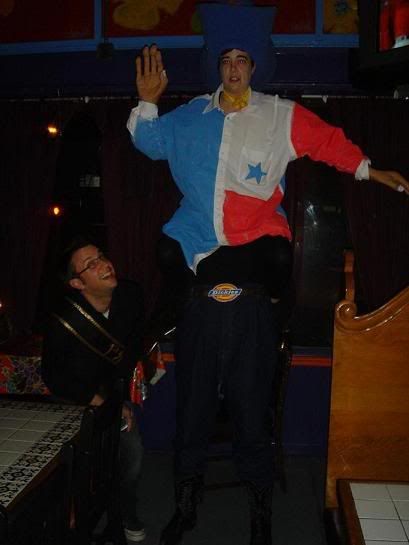 *brilliant costume. in case you can't tell, it's two people forming the bottom and top halves of big tex. and, in case big tex is not the national treasure i suspect he is, i now inform you that he is the looming mascot of the texas state fair.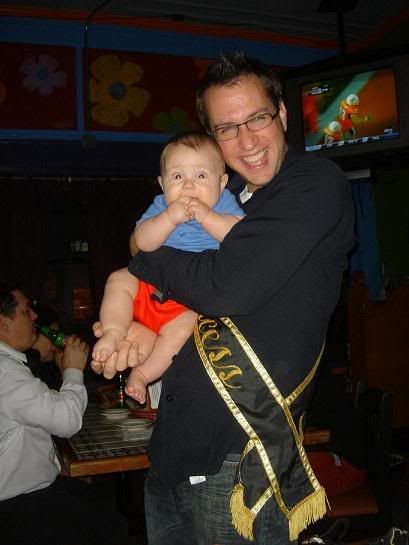 *i love that my baby is so smart he knows to be scared of dave.

sunday was halloween day #2. time for the chicken costume and fortunately somewhat cooler weather. i pulled on some of brian's old jeans which just barely fit (his old baggy jeans) and his grandfather's old snappy western shirt and my unraveling straw cowboy hat. we were farmhands to the baby's chicken. always the accoutrements are we. i even found my vintage wire egg basket and some little plastic easter eggs i have no recollection of ever owning.

we queued up for the greater white rock lake association's costume parade complete with noisy fire trucks. since there were far more participants than viewers, we ended up following the parade down the sidewalk where everyone broke for cookies and storytime and the playground. we didn't stay all that long and ended up at cosmic cafe. i eventually became horrified wondering whether or not it was obvious that our get up's were costumes and not just our everyday clothes. chickens. farmers. obvious, right?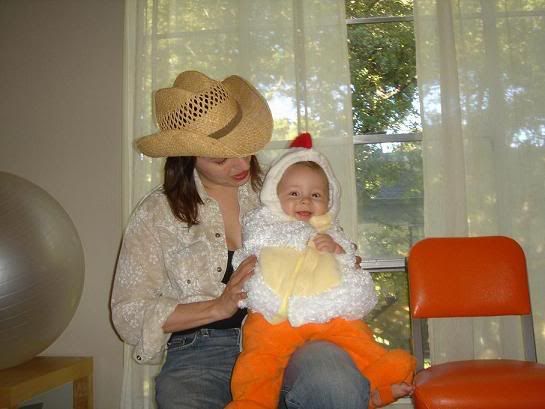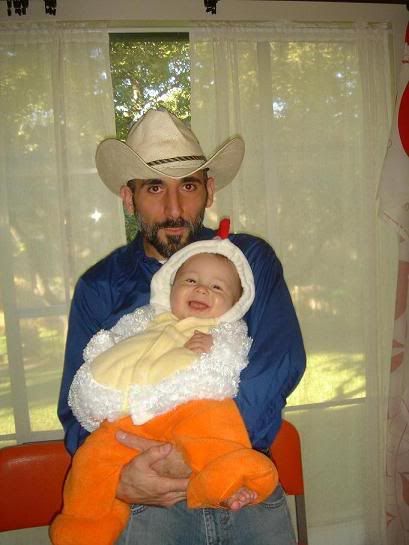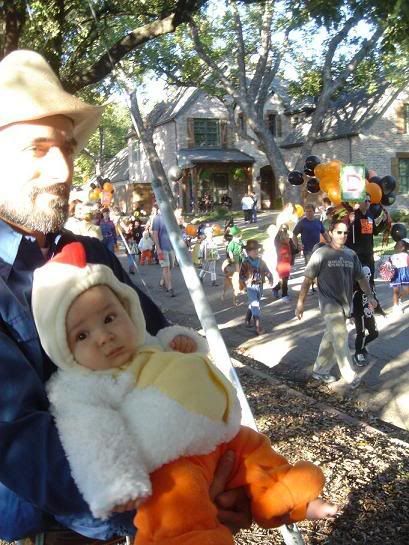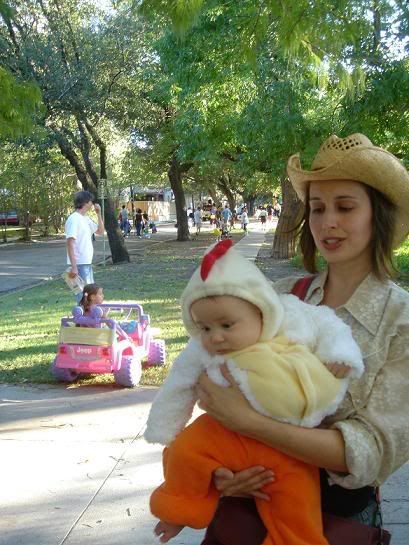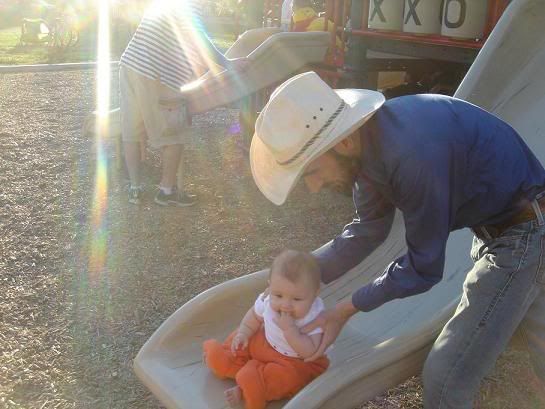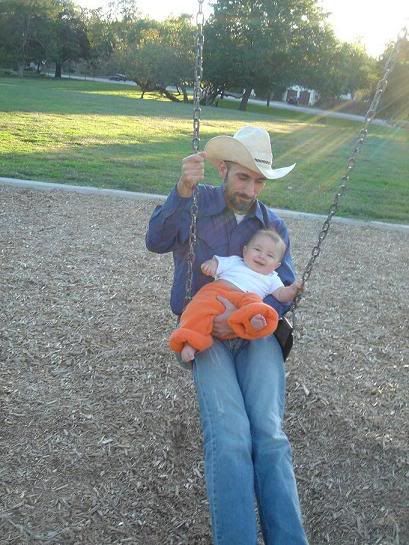 halloween proper is on the horizon.