brian phoned yesterday to say he could take a half day and come home early. i was finishing up a political campaign as he walked in the door. it was a roasty upper 80's outside under the sky full of sunshine. it was hard to believe it was already late october. it was also hard to believe that somewhere, over the horizon, storms were brewing and headed our way.

after a bout of frenzied, kinetic activity, we were out the door and in the car. we angled our way through the construction on good latimer leading into deep ellum. one half of the art tunnel has already met its demise in the name of progress and Progress, thou name art Light Rail. i snapped a succession of photos to remind me what it's like driving home as of yesteryear. it still upsets me to think of deep ellum or skirt its perimeter and remember that's where i no longer am.



after crossing the border from deep ellum into fair park, we found a parking spot, avoided an ant mound, loaded the baby into the stroller, and passed under the overpass with its cigarette wrappers and smells of urine wafting up from the acres of gravel called home to many. it was definitely warm, but it wasn't too bad in the shade with a nice breeze blowing. we arrived at the parry street entrance and ponied up our $16 a piece (we were "smart" enough to purchase the combined state fair-arboretum ticket) just before we were mirrored by another couple with baby in stroller who handed us their remaining three tickets on their way out.

"apparently, if you want to sneak in a bomb, all you have to do is show up with a baby," brian commented after we were allowed to enter sans bag checks and comments that they only contained so-called "baby stuff" and after one of the employees lifted the pink and blue bunny blanket to see that it did, in fact, conceal a baby.

we distributed the explosives at key points around the fairgrounds known to attract the highest density of fair go-ers... namely the auto show with its FIRST RESPONDER suv with lights ablaze and front paws propped up high in the air. we began walking quickly to our first attraction which just happened to be as far away as it could get. jesus christ superstar it was getting hot. how the hell was i going to breastfeed or carry that baby without combusting into a beth-shaped blaze of fire? once we reached the chinese acrobats and saw them performing in the full sun to a crowd in the full sun with no seating, i said "i've seen the chinese acrobats at least twice" and we turned to go back to the somewhat air-conditioned food pavilion where we could bask in such edible sundries as fried coke and fried candy. i made do with an un-iced cinnamon roll and watched brian floss pizza from his molars. where does it end with him and floss? i've yet to find the line.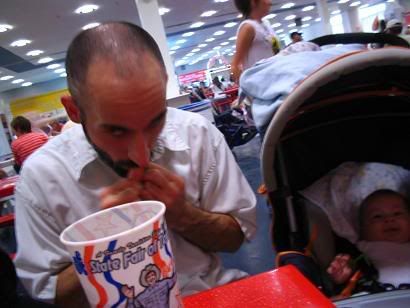 now it was time to dash to the aquarium for the amazon scuba. wait. what? $4 each to get into the aquarium? and the show already started because the online schedule sucks? so much for that and the pet tank and the choice a/c. 2 events down and nothing yet seen except for the blisters popping up under the straps of sandals i haven't worn much lately. alright... so we sit by the swan boats for a bit and watch the italian juggler flip ladels and rubber chickens in the air to a paisano song on his mini jam box. it held the attention of oliver and brian well enough.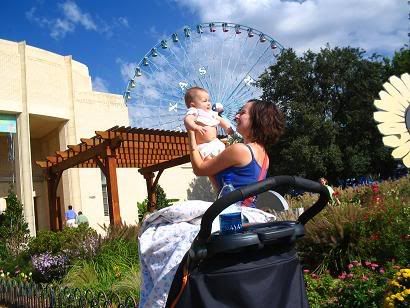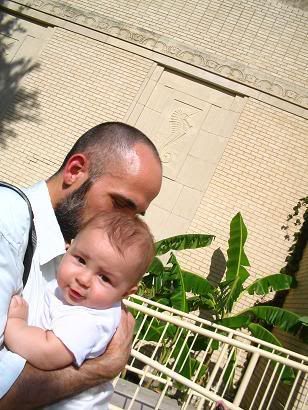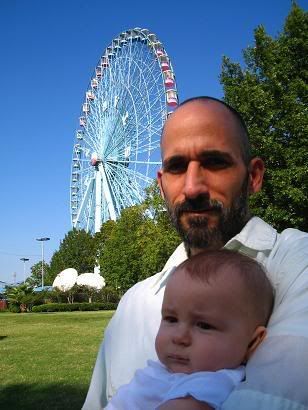 now it was time to figure out how to feed the baby. oh look... there's a little pacifier symbol on the map. perhaps it's a fantastic nursing lounge. or, perhaps, it's a creepy, tiny tent made of flaps of blue plastic surrounded by a picket fence. we entered through the gate and peeked into the first flap to see more creepy pieces of plastic flapping lightly in the breeze which cordoned off impossibly tiny rooms where you could see the runners of a rocking chair peeking out underneath in the dark preparing to creak back and forth on the dirt floor. i dropped the flap quickly before i started to have nightmares of dead babies. how could burt's bees slap its name across such a horror show?

we finally found some folding chairs in the building at discovery gardens and likely made the few people inside nervous as i whipped out a breast. we spent about 45 seconds watching the labyrinth of electric trains wind their way through the garden on our way back out. we needed to hurry to the bandshell to see the Birds of the World who were all feeling a bit ornery because of the tremendous wind... as the host of the show kept explicitly pointing out. our baby was nearly pulled from my grasp by an errant vulture with a 6 foot wingspan. as i was treading back to my bench after a pee break, i felt the skin covering the blister on top of my left foot give way. oh shit. what a predicament. because it was red and angry and hurt like hell.

we toodled delicately down the midway looking for something to spin brian around. he begged off from one after reading a sign that said not to ride it if you have back/neck problems or are pregnant. then he realized they all said that and he boarded the lonely and double-hammer-like kamikaze. a few more people showed up and the operator cranked up some funk and proceeded to dance to it in small ways. i like that, even though he has run that ride countless times, he still dances in little ways to the funk. brian came back to retrieve his pocket possessions as we surveyed the sky and encroaching clouds and falling temperatures. we hobbled as quickly as possible to the Texas Star ferris wheel... the only activity i request when going to the fair. oliver had still been behaving fantastically going so far as to spend the entire bird show looking over my shoulder and laughing and squealing at the two little girls seated behind us. oh lordy... now we have to have another baby to keep him happy and entertained. as we queued up, he was just awaking from a nap that had astoundingly taken place during our walk down the raucous midway.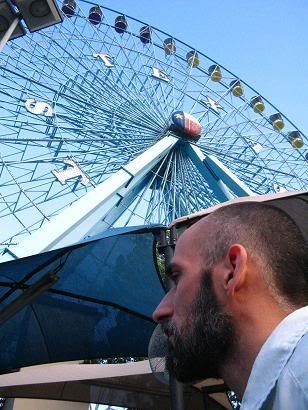 we boarded a car with three other people and had them snap our photo.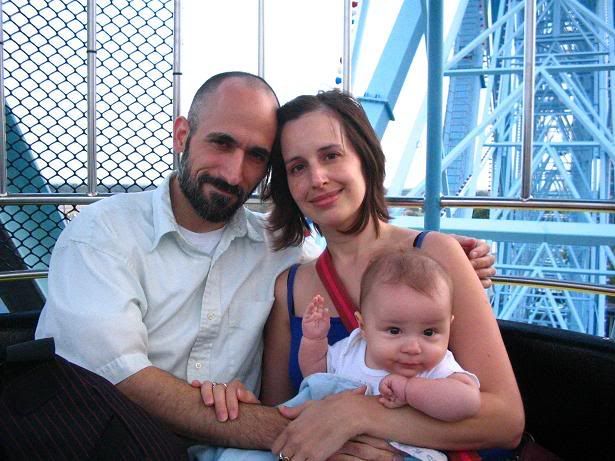 then all hell broke loose. as we ascended rather high into the sky and viewed what looked to be rain over downtown, the wind kicked up ferociously and chillingly... the baby's first exposure to anything but tremendous heat. i tried in vain to keep his blanket wrapped over him, but he was caterwauling like a banshee. IT WAS ABSOLUTELY AWFUL. i barely looked outside the car as my anxiety sky-rocketed. i nearly begged them to let us off as we swooped by the platform for our second ascent. HORRORS!

we finally exited and started trucking to the entrance, stopping only long enough to take O's photo with Big Tex. what was supposed to be an idyllic composition of baby's head aligned neatly alongside Tex's with blue sky glowing in the background turned into grey skies and a baby whose shirt looks like a scarf with a diaper cover beginning to work its way to undone. snap-snap gotta go.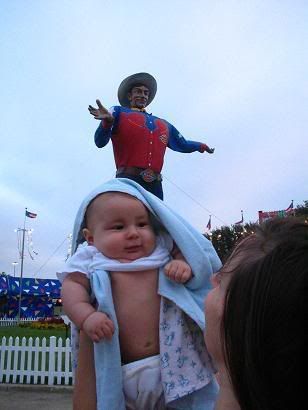 so four and a half hours and 30 degrees later, we hurried back past the auto show this time remarking how cold it was.

brian ran ahead to get the car and i stood with the baby at the entrance trying to keep him from constantly wiggling out of his blanket and trying to find which side of a column would block the wind and fielding comments from passersby about how my baby's feet were cold. yes. thank you. perhaps, as you can see by my spaghetti-strapped tank top, we were unaware of the cold front which had just blown through.

we were finally safe and sound and using the heater for the first time in ages. screw making dinner. last night was a pei wei night.

the sky in the courtyard was lovely when we arrived home.