the date was october 15, 2005 and the time on my queasometer read five out of five. if i had to pick the day i remembered as being my most morning-sickest, it would probably have been this one.

i had become accustomed to living a life of precarious wellness... fine one minute, reeling the next. feeling mildly nauseous was status quo. i tried to plan ahead for it and tiptoe lightly if i was going to be doing anything more industrious than working at the computer or lying on the couch in front of the tv and urging brian not to touch anything near my torso.

on this particular day, we were going on an outing. and it was an outing that was to include dinner at one of my all-time favorite restaurants: mr chopsticks.

mr chopsticks is a well-known veggie-friendly asian restaurant located next to the unt campus in denton, tx. it's facade has changed a wee bit over the years, but it still comes across as a bit ragamuffin. so much so that it took me about a year of living in denton to ever cross its threshold. and once i did, i was hooked into a once a week plus habit. it was my cocaine. it was my suma-veggie-summer-2001. it was a bullet point on my list for not leaving denton years earlier than i did.

if a visit to mr chopsticks (or any other favorite eatery) looms in the distance, i feel it's best to prepare one's belly to be as empty and as desirous for food as possible. but i started to feel myself going down a couple of hours before our departure time. i hastily threw open a vacuum sealed foil bag of some pre-cooked indian dinner or another and slammed it into my face in an attempt to waylay the inevitable.

and then the inevitable was upon me anyway. brian showed up to pick me up for the drive and i packed lemon wedges. and a plastic bag (just in case... though i tried very hard to forget that's why i was bringing it so i pretended it was a bag for carrying my little container of lemons). i gulped back the nausea the entire drive (45 minutes) and at some point decided pizza (at another of my reasons not to leave denton: the [flying] tomato) would be even better than mr chopsticks.

pizza it was and i immediately felt "better". thank god. because the reason we were in denton was not for fine dining, but for the denton rock lottery. dave was in the lottery being held at dan's silver leaf. according to myspace, dave was paired up with the following to form Milk of Amnesia:
Steve Hill (Mandarin), Little Jack Melody (Little Jack Melody and His Young Turks), Tim Delaughter (The Polyphonic Spree), George Quartz (Faux Fox), David Seiden (Icky, The Dooms UK, and EFF)

(omg... they actually listed icky.)

here is their official school photo. i post it because i notice a frightening resemblance between george quartz and john mark carr:




we also witnessed one of the jewlike members of fishboy whom we had recently seen open up for architecture in helsinki.

if only we had the soundtrack.

i survived the night (though we left once MOA's set was over). dave repeatedly offered beers to brian in an attempt to destroy his stand of no-drinks solidarity with the newly pregnant me. little did i know that our news was still hush-hush in that circle until i spilled it all over the table in front of everyone and ended up feeling like i'd let someone else's cat out of the bag. people scrambled akimbo trying to recover with grace by uttering proclamations of beautiful, big-nosed babies on the horizon.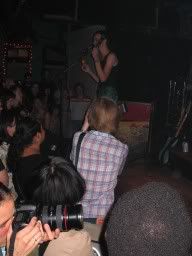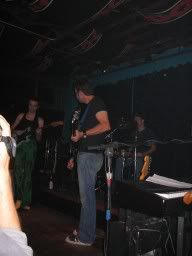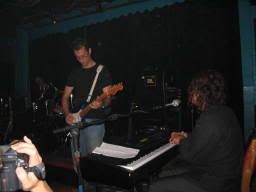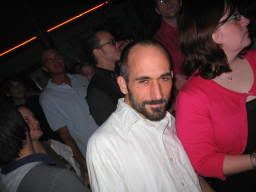 there's brian. looking particularly creepy. and sarah has absolutely no idea.