i'm not saying this to elicit responses, but as an excuse to post a baby photo. today is my 34th birthday. i can barely type that without crying. oliver has already given me his gift: it's 9:19am and he's still lounging in bed.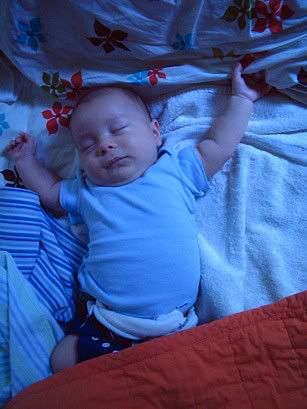 *our elderly, deaf neighbor helen asked if exclusive breastfeeding was enough for him. she must have problems with her vision or numbers as well if she's unable to properly count the number of chins he's grown by doubling his birthweight in just two months.

it's been grand. i sit here showered and shaved and coiffed and dressed and coffeed. and hoping i'm not paid back in spades later.

last night, i finally managed an audience with the elusive darren. i met him at paul's because a realtor was showing his house. my gay boyfriend is all grown up now and selling his house and moving in with his boyfriend. he's freaking me out. he's selling the house with the pool. no mind i rarely swim in it... it's the act of entertaining ourselves with plans to lounge in the hot tub with cosmopolitans and mojitos that i'll no longer have.

after oliver blew a super wet one while lying in darren's lap and then blaming it on darren, paul brought home pei wei and we followed it up with paul's leftover birthday cookie. we talked of bangkok and chinese dialects and frankenboobies and insane co-workers. oliver began his usual cranky-in-the-evening routine and gave uncle darren a workout. i learned four things about darren: he loathes eggs, he hates bellying up to a crowded bar, and he has nipple angst. the fourth one is a secret. but not as juicy a secret as that makes it seem.