wow am i ever behind on the moving-on-up (north-to-halfway-to-the-loop) post.

i am ever so wistful when it comes to leaving things behind: boyfriends, jobs, clothing, apartments, candy wrappers, etc. so needless to say, this shall be one photo heavy post as i couldn't rely on just my memory to bring back the good life that was my deep ellum home.

i lived in 106 for four years. i had my car broken into only once (a handful of months before leaving). it was a solitary time love-wise, but gave me the opportunity to re-connect with my high school friend, darren. it's also where i lived when E returned from germany. i lived through my share of crushes while there as well as a devastating lack of romantic attention. i learned to live again outside the confines of my home as a single person.

i suffered two lay offs and worked for three companies. i had a million flat tires.

this is where ttyki developed arthritis and quickly stopped jumping on the kitchen counter. or the top of the fridge. or the top of the upper kitchen cabinets. this is where she developed diabetes and forced me to overcome my fear of injecting others.

i lived next to booty bass and the drummer and the all-night-latino-night-club. there were dogs. and a borderline psychotic woman with conspiracy theories. and upstairs-robert of the clickety-clackety workshoes and boxer shorts.

there were water leaks galore. i learned to fear the rain on a new level. i learned to feel safe during tornado warnings.

my stacks of stuff reached new heights. literally.

my ford was threatened with a towing. twice.

i was nearly attacked (i just know it) while walking by myself late at night in deep ellum. i was never attacked walking by myself late at night in deep ellum.

i started dating brian. we went out. a lot. we drank. a lot. we played unemployment together. he broke up with me twice on the couch and made up once there. we made a baby.

i started livejournal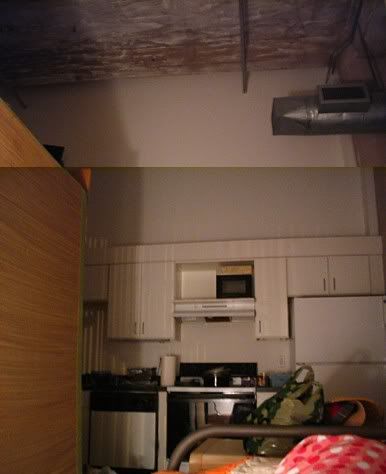 the wistfulness began during the wee hours of my last night on site. for instance... here's the view from bed.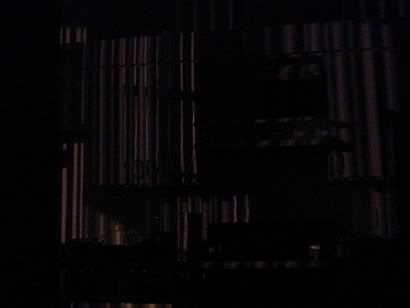 and then, of course, with the lights off.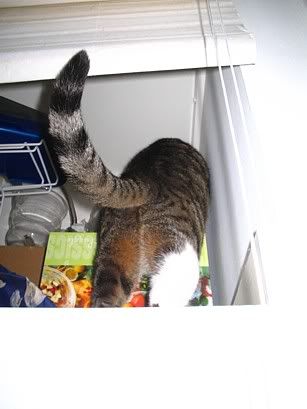 i couldn't resist photographing oskar's velvety bum as he explored the pantry shelves which were no longer crammed to the hilt.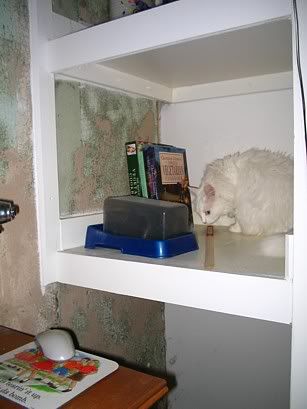 and then ttyki got the same idea (plus she found the opportunity to savor the scintillating aroma of an unused lefse turning stick.

2/18/06 was the final moving day. i had hired a less than careful team of movers to transport the furniture. the rest i had already moved myself (some with brian's help). this was a day where we just happened to get some sleet and light icing. perfect timing after our spring-like weather the week before. the movers were hours late. darren and his boyfriend paul's obsessive compulsive packing abilities saved my ass by hauling off an amazing slew of my left over non-furniture items. stand by for a heap of photos showing the loft in partially emptied out disarray...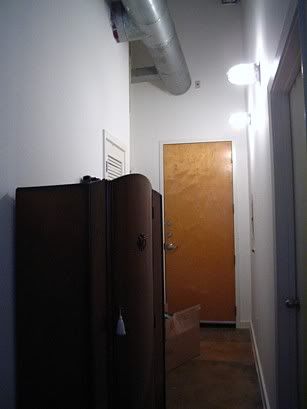 entryway. bathroom is to the left.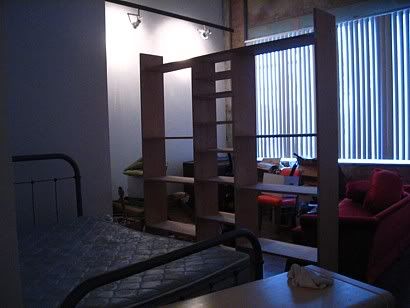 my lovely "bed room" looking through the shelves to the "living room"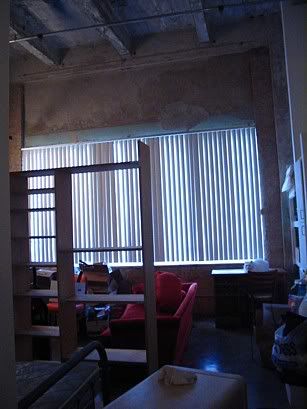 the "office" and the "kitchen"




the CEILING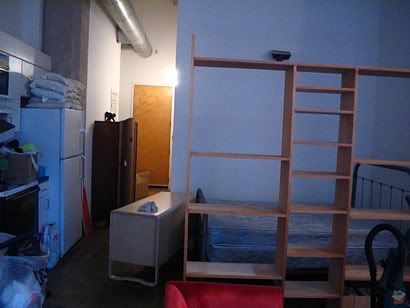 looking back toward the door. what a freakin' mess!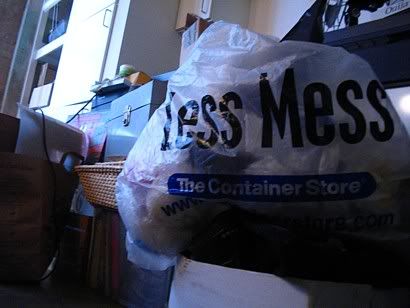 as i was waiting and waiting and waiting for the movers to arrive, i received a small message from the cosmos.

the movers finally showed and banged my furniture out to the truck... removing two small pieces of wood from the finish of my antique buffet with absolutely no apology. you get what you pay for.

the next day, brian and i spent hours scouring the almost empty loft. we mopped the whole fucking 650 feet. including the moldy spot in the closet where i discovered there had been another leak through the wall that also left mold on my childhood dresser.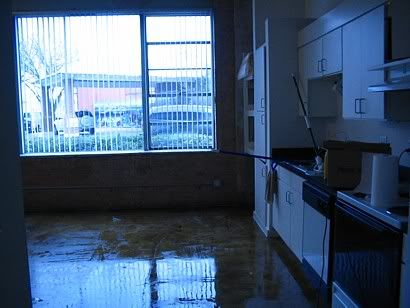 shiny (wet) "kitchen" floor!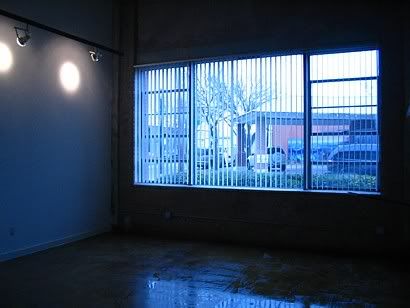 shiny (wet) "living room" floor!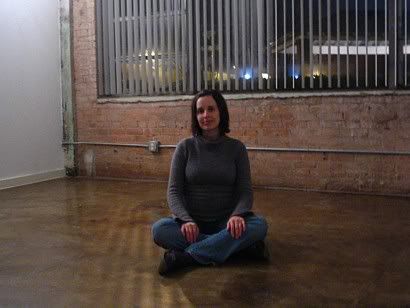 me sitting on the clean floor.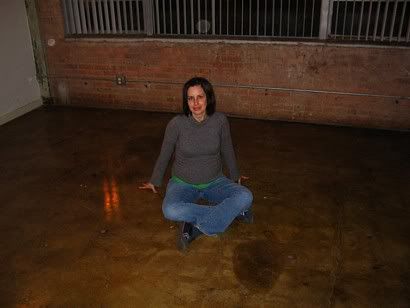 twice. funny how i thought i had a huge belly then. of course, it's three times bigger now god help me.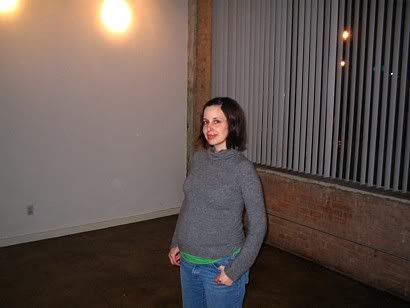 wait... wait...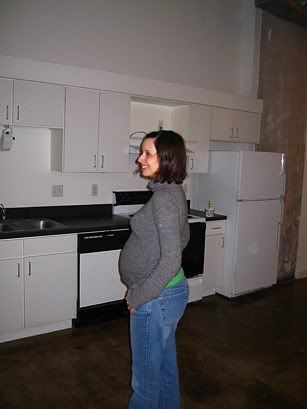 there it is!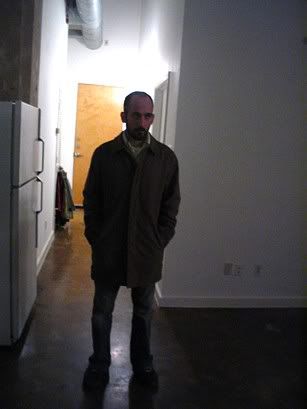 this is brian looking sad that he's about to leave the loft for the last time. also known as brian looking pissed at me for taking his photo because he always thinks he's covered in pimples.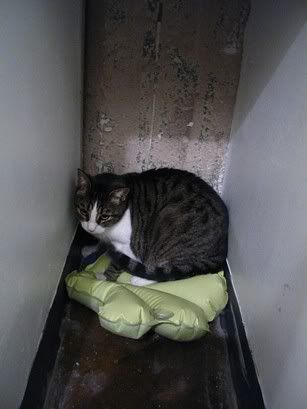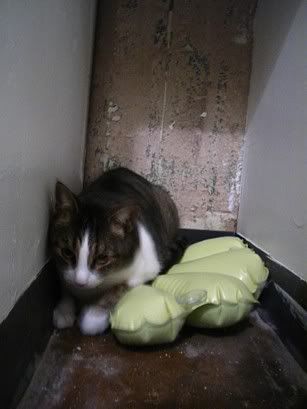 this was super sad. after everything was moved out, it was time to get the kitties. oskar was terrified and hiding in the shelves next to the shower with my long lost bath pillow (a pretty cushy spot). it was totally dramatic getting him out of there and into the tiny cat carrier. i had to break it in half, back him up against the wall, scoot him into the bottom, clamp down the top, slip the gate back into the front, pull it out and screw it down. it was so tragic and heart breaking. plus, he has this pitiful, little girl kitten meow. brian just carried ttyki out.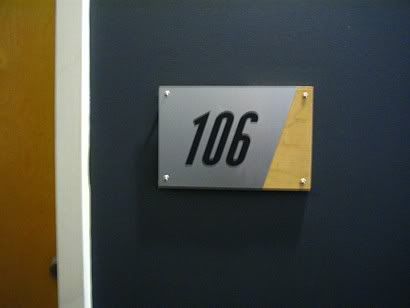 so, after looking at brian and bursting into tears, we said goodbye to number 106. that's right. the unit number was 106 for all the stalkers out there who were playing the guessing game long ago.


dead man walking. hall to the outside.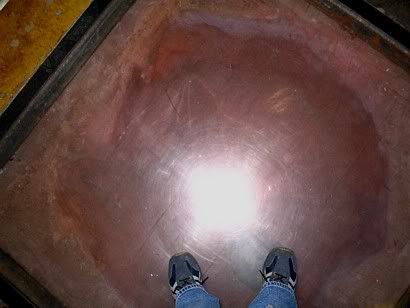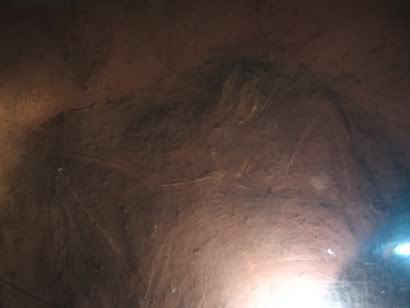 saying goodbye to the bird in the floor.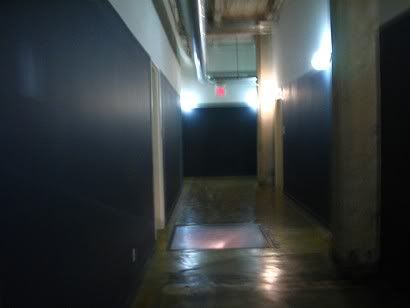 one last look back before crawling into my car and bawling like a baby.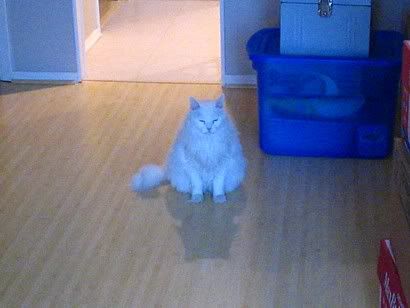 ttyki looking happy as a furry triangle at the new digs.


anyone still out there?...