friday 3/24, we allowed ourselves the luxury of dinner at cosmic cafe before heading home for an early night to bed. which of course meant we still went to bed at our usual too-late time. but we were up relatively early saturday morning in order to involve ourselves with what felt like back breaking labor. vacuuming, sweeping, vacuuming, vacuuming, mopping, laundering, bed-making, bathroom cleaning, kitchen cleaning, couch cleaning, box moving. what's sad is that after daniel and brian set up the stereo, they had managed to make the condo look even worse than it had several weeks before. it took all this back breaking labor just to get it back into the same shape as it had been when my father had been up for a visit two weeks before*.

*sub plot
my overly-kindly father drove all the way to dallas to deliver pre-soil-filled clay pots for us to plant in as well as sheets of plywood which he proceeded to use to floor out a wee bit of our attic (which was probably totally illegal, but who's ever going to know? helen? wishbone? i think not.)

of course, it was the saturday before st patrick's day and little did we know that our street (among many others) had been closed off for the greenville avenue parade being led by kinky friedman. dad called from the access road where he had barely moved an inch in 20 minutes. who knew the parade route ended a couple of blocks from our door? not me. oops.

as dad hefted pots and plywood, brian was having battles of his own as he continued to fight the monster named White IKEA EXPEDIT Bookcase. he finally managed to get all the pieces together without any of the other pieces popping apart in the process and i marveled how he managed to not bruise his palms or be struck down by The Lord for his use of profanity.


">



we celebrated by spending an eternity making our way back to the highway to have lunch at dream cafe until we thought we might puke up some really good food. vegan burger. seasoned fries.

end sub plot

we were wreaking havoc on our bodies because the danger of many visiting family members was imminent. IMMINENT! (when else have i ever cleaned?) i dragged my limp, broken living corpse to the freshly made bed with fancy new sheets and laid back in an attempt to unknot my knots. then, knowing how damn good it would feel, i prepared to flop over to my belly to feel my back roll back into place. DAMNIT! no flopping on to my belly!

instead, i pulled a non-maternity skirt over my head, prayed to the gods that it wouldn't burst open, and topped it with my new Forever 21 bible shirt.

the day was Shower Day.

our co-hostesses were evelyn and brian's friend (and ex-workmate) nichole. after my parents, sister, and niece arrived for their 15 minute visit, we loaded up and took off for E's. we barely managed to be the first to arrive and my empty belly was assaulted by the aroma of finger foods. as people started filing in, i nibbled a little and even had my second drink of alcohol since learning i was knocked up. it was a barely spiked mimosa, yet i ended up feeling overly tingly just before E suggested we get the gift-opening show on the road. i shoved a couple of miniature egg rolls in my mouth and tried to stabilize myself and tried to dry the sweat in my pits so i would be presentable for phase 2.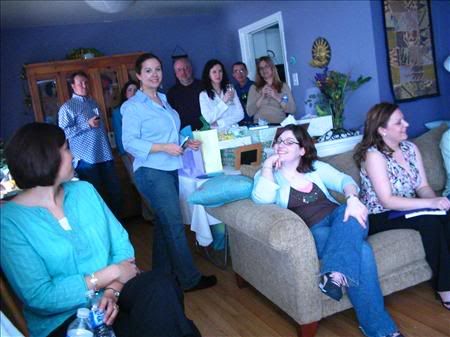 a smattering of guests.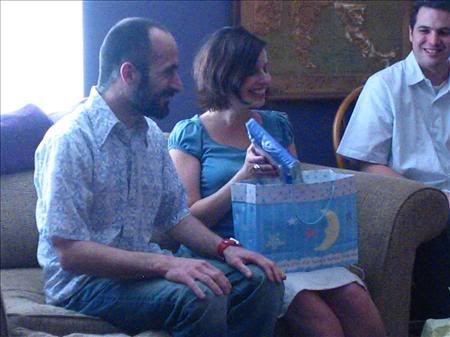 me looking super excited opening some onesies.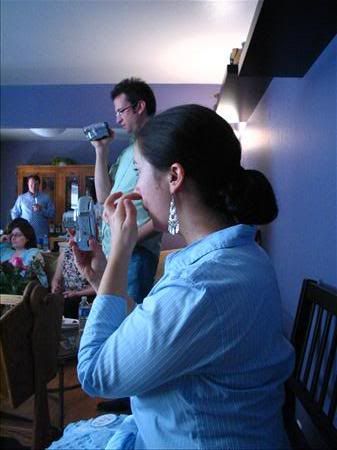 evelyn totally busted picking her nose.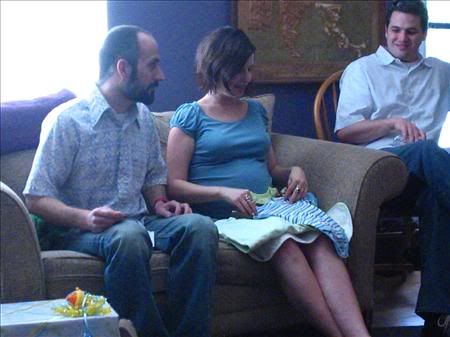 me looking super excited opening some onesies. (oh how my life has changed)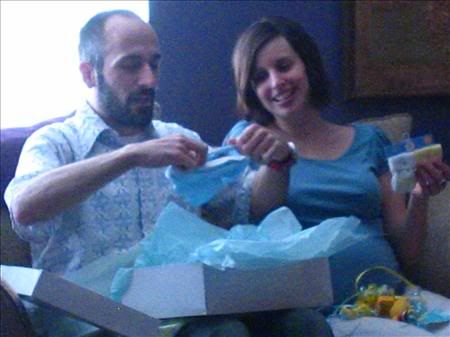 brian checking the size of his new diaper. he totally comandeered the gift-opening festivities.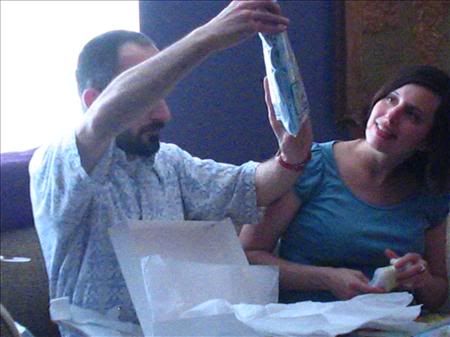 brian describing onesies to the gift-writer-downer.

as you can see, i have achieved pregnant lady cleavage. my breasts really haven't enlarged so much as my bra is now working overtime to contain my entire girth and it effects that contained in the cups. and i didn't realize until i saw these photos for the first time that a pregnant belly acts a bit as a bustier by hoisting the breasts up when one is not sitting straight up enough. oops.

anyhow, it was completely nuts how much stuff we got. i decided i must have been a real cheap skate at the few baby showers i've been to. i was worn out from opening gifts and avoiding glitter. brian's stepfather fashioned us a wooden basinet and my parents sprung for a crib. donnie showed up and brought with him a teddy bear from my cousin jason's collection (jason passed away unexpectedly a couple of years ago) as well as one of jason's favorite golden books about a tug boat and a small decoupaged pony plaque my great aunt june (currently suffering from alzheimers up in fargo) had made for jason. in addition to tons of clothes and blankets, here is a visual smattering of some of the other gifts: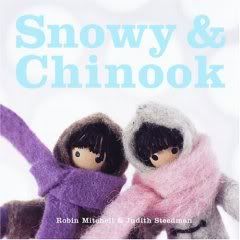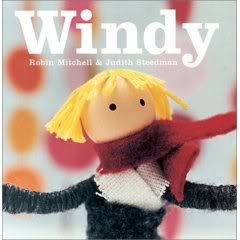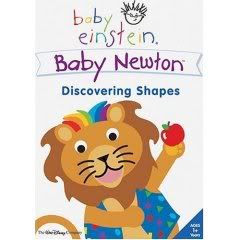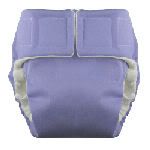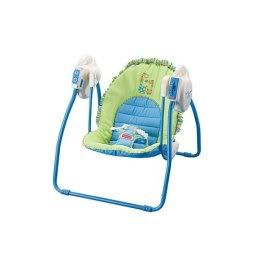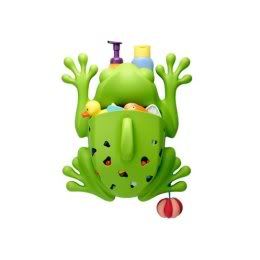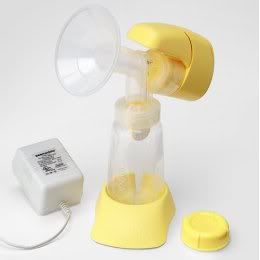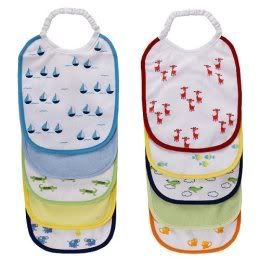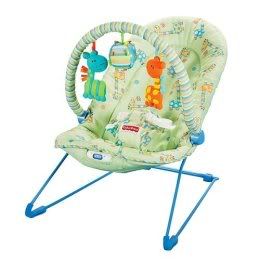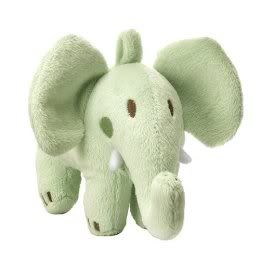 after eating all afternoon (including two gigantic slices of cake i was handed (two because there was one chocolate and one white/berry... not two because i'm a pig with no purpose)), we decided it was time for dinner. brian's mom and stepdad were kind enough to treat us and hank and evelyn to italian. i can't believe i could still eat. mom and stepdad retired back at our place and went to brunch with us, dave, and sarah the following sunday at dream cafe. after they hit the road back to killeen, the four of us went for a lovely, albeit windy, walk along some of turtle creek and exall lake. we discovered the sprawling crow estate dotted with a hefty collection of 20th century dictators lovingly captured in statue form and then dave stole pieces of discarded slate roof from one of the mega-homes on our walk back.