in case i don't feel lumpy enough on a good day or in case i don't feel lumpy enough with a stick of butter and all its baggage floating around in there, i decided i should up the ante by making my first excursion to a maternity department. it was a sad little thing located in the gap, but tucked in the middle of the children's section away from all the normal people clothes like a bad decision you wish you could forget.
want to feel like a circus clown? try on some of those jeans with the stretchy fabric top in lieu of regular jean things like buttons and zippers. you might get lucky and think: "hmm... not
toooo
bad." but then you inevitably think: "let's lift up my shirt hem and check out that sexy waistband" only to discover something freakish has happened to your pants and morphed them into a bad dream. i have always been frightened of these pants since the first time i saw a belly panel eyeing me from a hanger while lost in a department store years ago. i was lost. not so much the belly panel.
after a mortifying time in the dressing room, i ran out of there leaving all items behind me and made my way to the "normal" section of the store to find frenzied shoppers raiding racks of $19.99 deals. i decided i could abide much better by purchasing clothing at this point that's a size larger, a shade stretchier, and an inch lower on my hips. if that doesn't work, i'll be ordering a box full of pajamas to wear while i sit on the couch until next september.
saturday was spent on a "double date" with darren and his man, paul. we went to buchanan's antique market where the vendors had apparently already wound down for the holidays. after scoring a ring for $9, we grabbed dave and went to sol's for a late lunch.
then darren and i ditched our men and i came over for xmas soiree 2005. there was an obvious lack of festive alcoholic beverages and we were forced to opt for starbucks instead. we exchanged the items like an owl cookie jar, a typewriter, and a book entitled
pussy letters
which we had purchased for each other at the buchanan's antique market we attended in the deadly heat of summer. we also tried to find ornament hooks, almost watched
a charlie brown xmas
, and discovered that isaac has butt worms.
i also made another stop on my journey to rid myself of extrannea by secretly placing some of my knick knacks in the homes of others. several have found their way to my parents'. i had been planning to assimilate a hefty metal squirrel candle holder in darren's home for some time now, but had not been over to watch his pets in ages which would afford me time alone. so i snuck it into the bag of laundry i was taking over to wash thinking i could sneak it out without him noticing. but i foiled my own plan and had to ditch it amongst debris on darren's living room floor where he quickly found it in an attempt to tidy up. he looked perplexed and i was unprepared for my fits of laughter. so i let the jig be up. thankfully, he did not make me take it back home.
then i left to meet back up with brian and put in an appearance at lucinda's annual xmas party. i was "candypants". brian was "grumpy". we decided to take a trip down s. ervay on our way back to my place and discovered we could look right in the windows of the loft we had fallen in love with. so in we looked. it also didn't occur to me until just now that, obviously, not all windows were within the small, fenced off strip that runs the length of the front of the building.
friday was spent on the couch after brian stood me up (... i mean, after brian told me he could go out, but not until 9pm) eating an amy's cheeze pizza with mushrooms, black olives, and extra galaxy mozzarella. which brings us back to the pants sans buttons and zippers.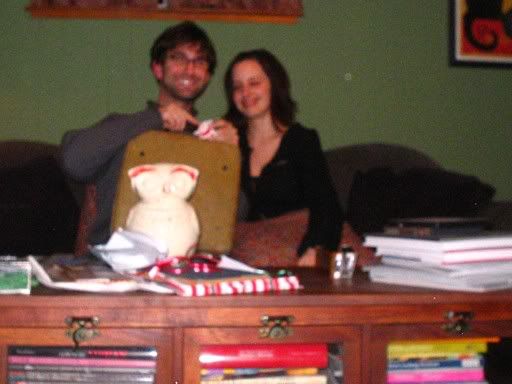 (
Collapse
)