Progesterone – This hormone is responsible for stopping menstruation and decreasing the ability of your uterus to contract. It is also linked to PMS, promoting depression, fatigue, etc.

Prolactin – This hormone is responsible for maintaining your production of breast milk. Its side effects can be fatigue and mild depression.

Estrogen – This hormone is best known for triggering breast tenderness and swelling when pregnant. It can also cause irritability and anxiety.

mon dec 26:
i suppose all this gibberish explains, in part, why i couldn't stifle a cry in front of my parents xmas night and then escape from the room while playing taboo with mom and brian. as i tried to explain to cousins mara and don last night, being pregnant is like being drunk: your feelings stay the same, you're just more honest about it. we made up after i cried like it was the end of my world on the floor of the jack-and-jill bathroom for 30 minutes and played ourselves to sleep with a box of 80's edition trivial pursuit cards. we had an early day coming in the form of a mid-morning gathering at the starbuck's with friends anne marie, barbara, jeromy, and kelly.

after that, we tried our hand again in board-game-land and found more success with mom and dad at playing cranium. even if it did make us over an hour late for leaving town. after a breezy hello to a mob of my father's family descending upon the house, brian and i left for dallas just in the nick of time for dinner at the corner bakery with mara and don. poor brian. he was hit relentlessly from all sides by my family and friends this weekend...

fri dec 23:
we had arrived in tyler friday evening after a completely traffic event-free drive and i proceeded to nearly make myself sick on my mother's xmas cookies while watching the end of the original charlie and the chocolate factory. i had to rearrange or block off a ruthless army of poinsettias to keep ttyki from killing herself on them.

sat dec 24:
we awoke xmas eve morning and, after brian finished primping for what felt like hours, i took my dirty hair and drove us to the mall for some last minute shopping. i ran into amy s and her mother. that's what i get for having dirty hair. they were actually shopping for themselves since they skip the whole, painful gift-giving affair. a novel and enchanting idea. inspired by their inactivity, i also purchased two shirts for myself intended as some version of maternity wear. so what if i ended up purchasing them in a small. they were far too blousy otherwise and i'm certain they are prepared to stretch many times their size.

back at the ranch, i scrubbed myself down and changed back into the pajamas which would carry me through an afternoon and evening of the xmas story,scrooged,and vegetarian meatballs. at the last possible moment, i gave up the perfect opportunity to skip the candlelight service for the first time ever... mainly because i had finally found something i could wear comfortably and not look too much like i was carrying a can of soda under my shirt or a six pack even. brian and i sang some lovely xmas duets to the pleasure of those surrounding us before riding around looking at xmas lights and heading home.

sun dec 25:
since it had been ages since ttyki has properly celebrated holidays, she was justly excited beginning at approximately 3:00am each morning in her anticipation of santa claus. she couldn't be contained. she was spilling over. and over. and over. until i was forced to shanghai her into bed where she purred endlessly like a dove. even though she pretends to hate being shanghai'd into bed on a regular basis.

i finally arose at 7:30am and curled up with a mug of coffee-free hot chocolate and watched videos of ancient family films darkened with time and a 70's "innovation in film" promising to require only the lowest of lights. after a couple of hours of delightful leisure, my sister's family showed for the melee.

this year, i not only insisted on handing out my gifts first, but they each had to be opened one at a time. those who bitched and moaned were informed that i had spent two months, a lot of time, a lot of headaches, and a lot of money with little to no help from them getting these gifts together. and i wasn't going to have it over in a mindless flurry of wrapping paper while my back was turned.

and though my nephew seemed wistful over the fact that santa had not delivered a cornsnake or a 12 "gage" shotgun, he perked up by reminding himself that he had scored a football and a video game.






in the days following xmas, i have discovered several items missing from the bevvy. interesting considering i struggled to compile a list of wants this year. now it has inspired greed within me.

but on that day, i just found myself eating a large brunch, followed by snoozing, followed by a large dinner which my grandparents also attended. sadly, i found myself walking through the kitchen where my niece's puzzle had been cracked open and found hours of my day mysteriously at large. and, for the first time possibly ever, i stayed home on xmas night. i was working a puzzle in pajamas, so it didn't take much persuading. hence the coffee klatsch the following morn.

i leave you with one further photo montage: my post in photos...






this photo is very similar to the one of my tree last year.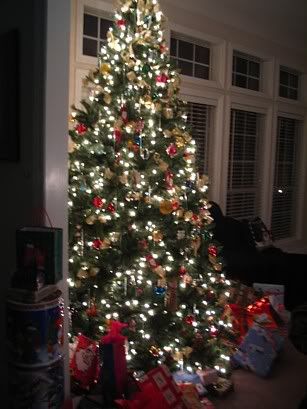 ...as is this one of my parents' tree.



brian poses under the mistletoe.



post-church survival photo.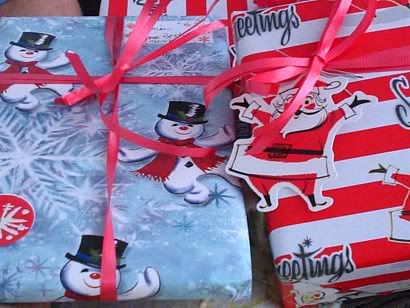 once again, i outdid myself in the gift wrapping department.



this is what ttyki looks like when she is unencumbered by her unhappiness at cohabiting with oskar.



stockings pre-melee. mom even fashioned one for brian. knock the lady up, you get a stocking.



dad was hopelessly confused by the pindi chana wrapping used for his gift certificate which also contained some nasty maggi tomato flavored ramen and some dried beans for good measure. he took my warnings regarding spice levels seriously.



brian. wearing a his very fancy traditional xmas hat.



coffee klatsch.



ttyki settles in back at home and finds new ways to dodge oskar. or set up her own psychiatry booth a la lucy.