friday
brian arrived at my place post work. we bundled up, grabbed our mittens and scarves and my outdoor blanket, and made our way across the block to the Continental for the rooftop showing of Str8 Up... a local film sure to be completely horrifying due to the fact it's called Str8 Up and is local. but i get a kick out of rooftops and outdoor screenings and films shot in my neighborhood, so off we went.

we arrived at the front door to a devastatingly quiet lobby. where were the throngs for the pre-movie gallery opening complete with free finger food, alcohol, and music?

what was there was the perpetually suspicious and grumpy security detail who never asks for my license and instead takes my word for it and then forces brian to sign in as my guest. he ignored my question regarding whether or not that was the night for the screening.

so instead of a screening, all we saw when the elevator opened up on to the roof was a couple which sounded to be german and which appeared to be in pre-coital throes on one of the chaise lounges.

we left and instead rented harry potter III: escape of the dendrites from the prisoner of alanon. this was part I of a deal with brian. i would watch this and then the most recent HP release assuming he would join in my forthcoming sunday plans. at one point long ago, i expressed my desire to remain removed from harry potter mania. he took this to mean i loathe harry potter no matter how many times i denied it. dog with a bone. so he thought that having me watch two HP movies would be some sort of just punishment. i held off mentioning that it doesn't particularly chap my hide.

so we watched the movie and i ate peanut butter m&m's and we then fell into fitful sleep until saturday morning which was punctuated with what i believe to be a burgeoning snoring issue from brian.

saturday
having been uninspired and left feeling even more depressed and anxious about our housing options after our first two outings with reggie the realtor, we made the third time a charm. i had already sent a list as long as my arm to reggie to make sure we would hit gold, fool's or not, somewhere in the mix.

we had initially fallen in love with the 85 year old 4303 junius which is located in a gem of a historic neighborhood in east dallas, but with the price being just past our upper limits, we knew we'd have nothing left to fix it up properly.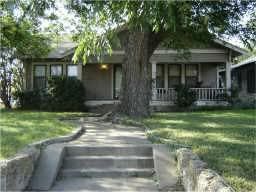 we fell in love with the first. it's located near the whole foods on lemmon avenue in a sprawling complex of brick, U-shaped buildings constructed in the early 1950's and endowed with grand, old trees and expansive lawns. both units we viewed were redone and i could have easily moved into either without redoing a single thing. the only problem: storage. our hearts cried a little, but we moved on happy to know we would, indeed, be able to find something we liked and could afford.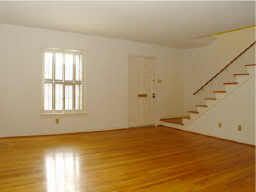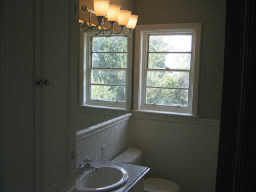 we moved on over to the university blvd area. on the east side of 75 where there aren't houses costing hundreds and hundreds of thousands of dollars. again, the area is inundated with older complexes (from the 1960's) with green lawns and trees. not quite as cozy and i find the exteriors to be less than pleasing, but still nice and tidy overall. the first one we entered only needed to have the carpet replaced with wood and it was ready to go. we were excited to find something we liked in this area (especially because of the plentiful and large closets) that had not been updated in some horrible 1980's manner.

we were literally called to while walking down the street by a former tylerite on his balcony. we went in to see his condo for sale. it was okay, but brian was in love with the one next door. the price was definitely right, but i was on the fence.

our last stop was undoubtedly one of dallas' crackier crackvilles: south ervay. a mere hop and skip from one of our favorite bars: lee harvey's. the zombies are plentiful in this area, but we couldn't resist the draw of the property. known as the coombs bridge condos, this building contains not one, but two lofts for sale just within our price range. we were able to only get in one, but i nearly passed out from the crazy amount of storage and glass-fronted built in display cabinets and walls with countless niches and an 11-foot tall skinny bookcase and 1900 square feet and a closet so big it will be the baby's room ( i shit you not) and fantastic wood floors and two walls of windows (just ignore the bars and barbed wire view). i felt a bit better knowing we were directly across the pass from the american beauty mills lofts and just blocks from some fantastic artists' lofts. just ignore the condemned apartments and gingerbread houses. the view from the deck on the roof was absolutely grand: downtown sprawling across one side and the state fair of texas ferris wheel off to the side.

so as you can see, we are in love. in love enough to raise our unborn baby in crackville. we're totally stoked (i'm even using the word "stoked") and dreaming of entertaining (i'll finally be using all the entertaining type crap i've been buying for years as if i ever have entertained or even had as much as a coffee table upon which to entertain on. the baby will have the opportunity to get a crackhead education at the lovely lamar street "alternative" school.

we are still waiting to see the second unit which promises to have two actual bedrooms and i was relieved this morning to come across the following comment on apartmenttherapy.com while searching for examples of transom's to adorn the top of the baby's closet door:

Sarah likes the result so much that she has a fantasy of raising children here. The closet, she believes, is so big that with the addition of a transom to let in light from the hallway, it could be transformed into a nursery very easily.

enough about that.

we had a couple of hours to recoup before brian arrived at my place post househunt. we bundled up, grabbed our mittens and scarves and our outdoor blankets and made our way across the block to the Continental for rooftop showing of Str8 Up... a local film sure to be completely horrifying due to the fact it's called Str8 Up and is local. but i get a kick out of rooftops and outdoor screenings and films shot in my neighborhood, so off we went.

there was a host of pretentious people strolling about to the tunes of a cello and synthesizer playing non-music and trying not to tread upon the squares of astro turf strewn about the floor throughout the odd pseudo-JFK-assassination-plot display of what i like to call "lazy art". we mingled long enough to see there were no finger foods and use the bathrooms. we made our arrival on the roof at 8:45pm and were horrified, though not terribly surprised, to find ourselves the only movie-going patrons.

we stole glimpses of who we believed to be the filmmakers and confirmed our supposition that the movie would indeed stink.

but we snuggled into our gear on chaise lounges anyway and began to mock the global fashion news footage playing before us. after one hour of this, several other people showed, but we had had it with the waiting and ran quickly away. i begged brian to take us to 7-11 for candy (even though the throngs down at that end of deep ellum were unbearable the weekend before (for example: a car blocking the exit of the parking lot waiting for their friends to come back out)).

sunday
we both spent the entire day doing nothing at our respective homes, catching naps with our cats where we could.

then we prepared for our 5:00pm outing. it was the first trip for both of us to the majestic theater downtown and we scaled the many staircases to our seats for the moscow ballet's performance of the nutcracker. i had a feeling it would be a bit boring, but i've always had this other feeling that i should be going to see the nutcracker at holiday time. darren was originally supposed to be my willing companion, but had a snafu with travel arrangements. E couldn't fill in, my mother was busy ringing handbells in garland, my sister claimed that going to church and then the ballet and not being back home until 9pm would constitute a "long day" (even though i told her she would be allowed to enter my apartment which she has yet to see since she helped me move into it four years ago and likely won't see until she helps me move out of it in a couple of months), and christie is far too pregnant to sit still for two hours.

so that left brian at the plate and threatening me with harry potter movies.

we were both a little bored, but entertained ourselves well during the second half by trying to ascertain whether the ballerina "from india" was wearing a T-back. we hit sol's for dinner before falling uncomfortably asleep on the couch. or, more precisely, brian fell asleep on the couch with his face nearly between my ass cheeks just after i had eaten mexican food.

the current view outside my window: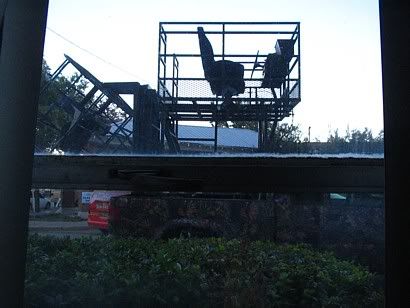 yes, that is some horrible two-tiered deer stand rig attached to a camouflaged pickup. i managed to snatch this photo just before a gaggle of hicks came out to stare at it and do something with gasoline... the fumes of which have just invaded my apartment causing the baby to say it's getting a carcinogenic headache. jackasses. go make sure your penises are still attached and shoot bambi.