mon

i suppose, in retrospect, i could declare this as the beginning of the celebration of my birthday week. though, to be honest, i wasn't all too keen on mastering the art of extended birthday celebrations this year like i was last year.

to retro-iniate the celebration, brian and i made our first voyage to gachet coffeehouse's "reel mondays". after sipping a coffee with bailey's and eating a slice of strawberry cake, we climbed the staircases to the roof and joined about 20 others for a rooftop showing of amelie. god, i really do love this movie. even if it does mean that i'm a big girl for it.

i was buzzing from my post-amelie high as we left the coffeehouse, picked up taco bell for the always-famished-brian and arrived home. i checked my mail and found a red envelope tucked amid grocery circulars, investment statements, and blank credit card checks. i was delighted to see it was from
emily_swank, as promised. it was a perfect compliment to the evening and, after reading it, i smiled and smiled and smiled until it was time for bed. (thank you, ms swank)


tues

i went to see melody. darren asked if it was for my birthday cut. of course not, i responded. admitting it was would make me a big girl.

so birthday cut she did and we ran to tgi friday's afterward to wash the loose hair down with some beers. we accidentally ordered giant beers first and then, because they were kind enough to card everyone, a nearby patron jumped up, proclaimed joy at being carded, and proceeded to buy our giant beers for us.

after we left the bar area to join melody's husband and one of his friends, she continued paying for the rest of my beers. because it was, after all, my birthday week.


wed

this was a bit of a down day. we canceled what would have been an experimental happy hour gathering to meet new and obnoxious friends in the hamlets just north of dallas proper. brian's mommy was coming into town to spend the night with him so she could pick up brian's nephew and take him back to killeen for the weekend. brian was a halfway house.

she arrived late in the evening and i didn't know dinner was still on until after i had already eaten, so no brian's-mommy-time for me.


thur

the momentous day arrives. i awake bright-eyed and bushy-tailed and ready to greet the new year. just happy to be alive another day. besides... it was, after all, my birthday. as usual, i spent the remaining moments before midnight whispering to myself: i'm 32. i'm 32. i'm 32... and wondering if brian would be boyfriend-savvy enough to call me to wish me a happy bday after refusing to sneak out of his own house to do it in person.

i spent the day working and fielding happy birthday phone calls, emails, and lj posts. special day for a special girl it was. i also decided this was the perfect opportunity to stop harrassing myself with endless research and price comparisons and finally buy myself an LCD monitor to replace the free, tiny, blurry monitor (sans base) i had been using the last three years which had replaced the decade-old tiny monitor before it.


eventually, brian did call to say he and mommy and nephew had visited the mall and the dallas aquarium and a burger king where he had to wipe poo off his nephew's bottom.

now that mom and nephew had been shuttled away, it was my turn...

this year i decided to not hide my birthday from brian. even though i still had to tell him when it was.

he showed up to pick me up for dinner and insisted on driving us to cosmic cafe to meet darren, evelyn, and hank. afterward, we all were going to have drinks. as we were walking back to our cars, darren instructed me to ride with him so he could gift me in private. later we learned that E and hank mysteriously absconded into the night without drinkage.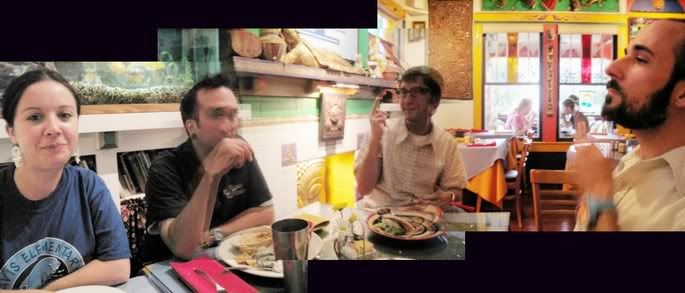 darren gifted the crap out of me once again with a smelly heap of lush (aptly named "je t'aime"), a mousepad, a mixed cd, a booklet brian is convinced is supposed to convince me to dump him, etc... and then we finally took off to the xpo lounge cum monkey bar. apparently, in lieu of planning a 33rd birthday, i simply decided to relive my 32nd birthday. same locations, same food, same people. 32 was a nice number so why not?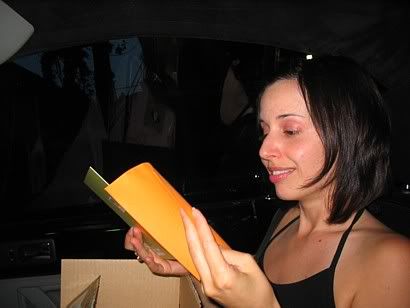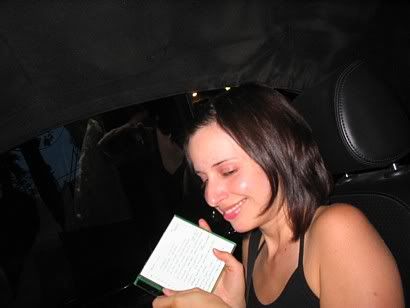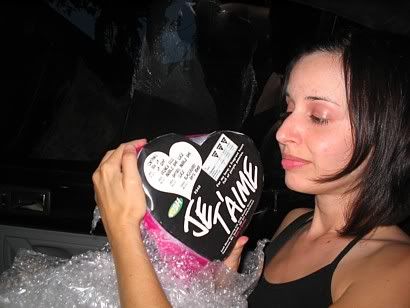 good times were had by the three musketeers at the relatively empty monkey bar. it didn't take long for the humidity on the patio filled with 80's florida condo furniture to make my legs sweat beneath my skirt. so i moved us into the a/c. but not before i snapped this stealthy shot of brian and darren in obvious cahoots.




as you can see by darren's pointed finger (it was pointing a lot that night), he was in charge. and as you can see by his suggestive posture, he is indicating to brian that he should get down on his knees to pleasure him before my imminent return. brian has adopted the closed-off stance indicating he has no intention of spoiling darren on my birthday. this tryst will have to wait.

by now, my hefty mix of drinks was kicking in nicely. i had been treating myself to a modelo especial, a cosmo, a buttery nipple, and something else i forget now which likely was a misguided ingredient in my purposeful alcohol stew... all on someone else's tab.

the conversation turned ugly when brian launched into his scientology rants and i returned my mother's bday phone call while everyone shouted to her in the background. i'm certain she thought (knew) we were trashed.

upon arriving home and in addition to a "coara" (koala) cd carrier and oh fuck... something else that i'm completely blanking out on, brian presented me with a lovely and well-chosen gift that smells good to boot: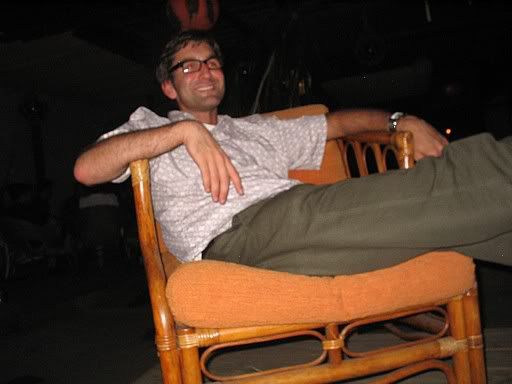 *darren looking smug in a bamboo chair



*me looking insane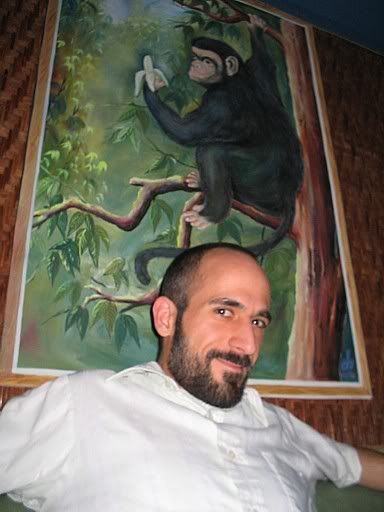 *brian poses with a monkey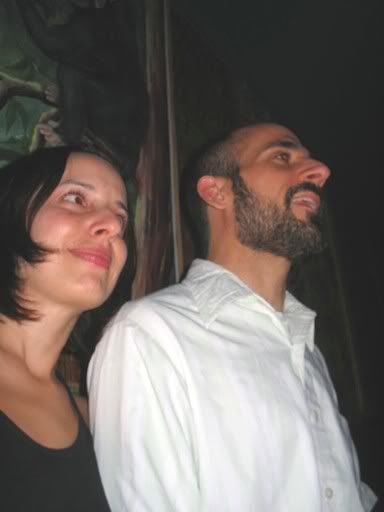 *photo of brian teaching his radical anti-scientology followed by self-portrait of me with my crazy anti-scientologist boyfriend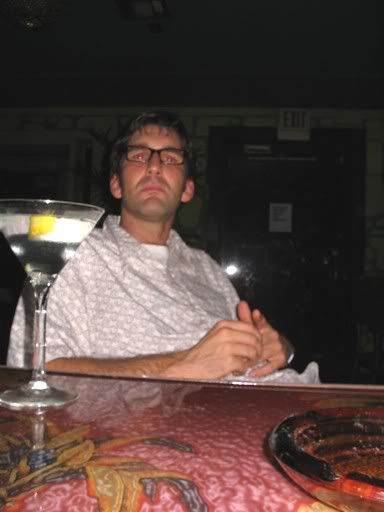 *darren looking grumpy even though he has a martini in front of him.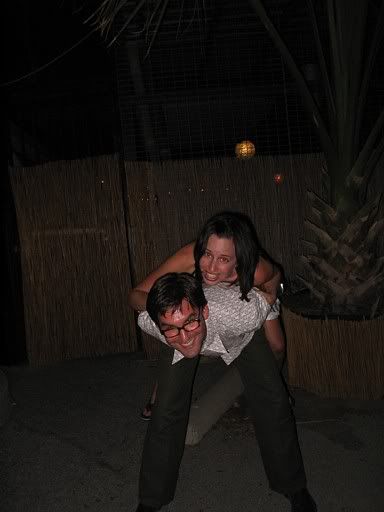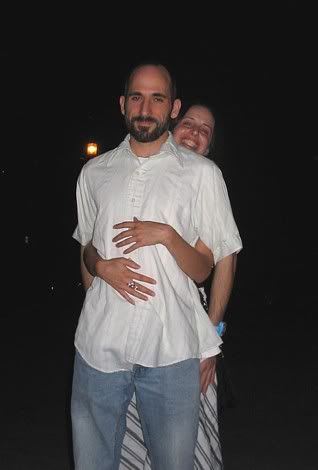 *here is the point where i was determined to repeat photo opportunities from last year even if it meant darren killing me in the process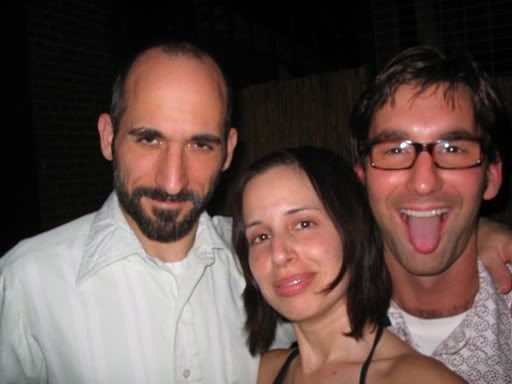 *the end*