with recent history serving as an indicator, the dawn of another friday meant a trip to tyler.

afghani barbie had finished her two year contract in kabul and, after trips to nyc, dc, norway, and france, she was finally in for a tyler visit. as soon as i arrived in town, i picked her up and we progressed to a nearby chili's for beer and chips. she looked fantastic as always and quickly confided that she was getting married to make her mother happy. and in tyler, no less, as her parents said austin would be too far away. barbara was cringing. tyler contained too much kitsch and the thought of winding up with a tylerite wedding planner dressing us all in peach hued taffeta was enough to make her postpone the event indefinitely.

due to a lack of better options, we drove to the pub 'n' grub for our second beer. her younger siblings had mentioned it to her and we decided to go just in the hopes i could show her the hip hop line dancing that sometimes takes place on the subterranean level. the doorman suspicioulsy eyed B's DC license and then forced her to fill out a form before allowing her entrance. B paused for a moment before jotting down her address, uncertain whether to list her prior DC location or the compound in afghanistan. i urged her to stick with DC. the doorman would likely label her an insurgent otherwise.

in we finally went and i wondered what our kiwi friend che would make of the place. the only indication that it was an "authentic australian pub" was, perhaps, the large three-dimensional cut out of the australian continent dropped from the ceiling above the bar.

we were saddened to learn the hip hop room was requiring a cover charge that night so we stayed upstairs and chatted until B was about ready to drop.

whenever B makes it into town, she usually over plans and then renegotiates just prior in an effort to see more of her family and quell her homesickness. i anticipated this scenario when she mentioned lunch for saturday and wound up spending a day by the pool instead. we did meet christie at on the border that evening and everyone wimped out after that and went home (i was good to go, but i'm a partier like that).

we snagged some charming photos out front by the strategically planned rock formations and non-indigenous plants. note how i cleverly selected my position to make it appear as if i have slender hips.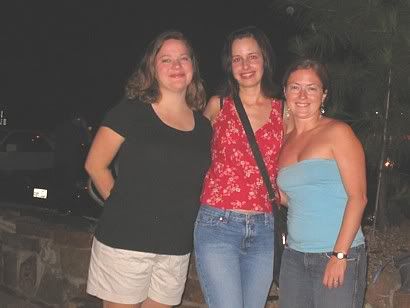 and do not be fooled into thinking i am a tall girl... at 5 foot 5, i simply have shrimpy friends.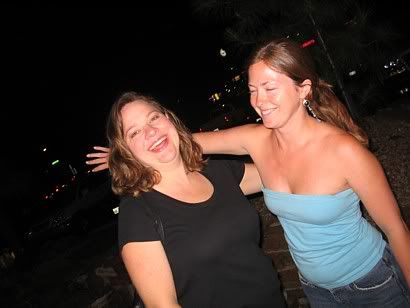 another non-surprise: B backed out of having me drive her back to dallas for her 1pm flight to DC so that she could spend more time with moms & pops. so i slipped into my still damp and wildly chilly bathing suit and hit the pool again.

at some point, my paternal grandmother called my parents' home and i answered. she was surprised i was in town and i explained it was last minute. she called back later in full grandmother mode and tried to lure me to her home with more tomatoes. after explaining i had barely made a dent yet in the last batch, she threw out another strategy... she still had some vegetarian vegetable soup in the freezer. i threw in the towel and agreed to come by. she's a tough player, my grandmother. this is the woman who purchased gadgets like intellivision and a moped and let us drive the riding lawnmower around the backyard to our hearts' content if we would only spend the night. she is also the woman who allowed us to consume as much soda and sweets as we could choke down until i began associating "spending the night at grandmother's" with "being horribly ill and having to be picked up by my father late at night while i gulped air down my throat in an attempt to bypass throwing up".

she also took this opportunity to load me up with groceries including, but not limited to, the pasta from several boxes of kraft macaroni&cheese sealed and taped in ziploc baggies because the sauce makes really good macaroni&cheese (but apparently the pasta does not) and ... the same can of pineapple i had managed to side-step the week before tucked secertly into the bottm of the double-ply paper grocery sack (which i quickly and astutely pawned off on brian who will likely, if he can muster the required energy for follow through, quickly and astutely pawn it off on victims of Hurricane Katrina... as if they haven't been through enough already).