my drive back to dallas that friday afternoon was horrific as usual. houston loves for people to come visit, but hates to see them leave.

as soon as i got home, i received a phone call from E telling me about her uncomfortable interview with the richardson school district while being video taped. naked. she mentioned that while she had been sitting in the reception area beforehand, an employee had come through asking the receptionist if brian E, the spanish guy, had already come in for his interview. this was an odd bit of news since brian's alternative certification group was supposedly not going to be interviewed by the RISD. and besides that, what the hell are the odds that E would be sitting in a reception area as they are discussing brian? i called to tell him this in case there was a slim chance of gettng back in the program. but, as it turned out, he had decided he was finally prepared to pursue a career in the sex store industry instead; and, even though he had students throw condoms on his "overhead projector" during his first stint of teaching, it just wasn't sex-store enough for him. a narrow miss, i suppose.

as a result of that pathetic phone call with my mother the sunday prior, my parents arrived in dallas at 1pm saturday to make a pity visit. i hauled them to cosmic cafe (where my mother had dined once before) and wondered if my father was overwhelmed by the decor and robust middle eastern music being piped in. he settled for a safe bet of enchiladas.

though i felt i should working away at home, i was easily convinced to do otherwise and we took a quick stroll through a very hot pearl street farmers' market. god it was hot. hot hot hot. hot. so we went to meridian room to drink beer beer beer. but since meridian room had locked us out until 4pm, we went to all good cafe and drank beer beer before they drove back to tyler.

i had been worried that, perhaps, my evening would be left empty and sorrowful (since i was being a bad little worker), but then my mother gave me back this: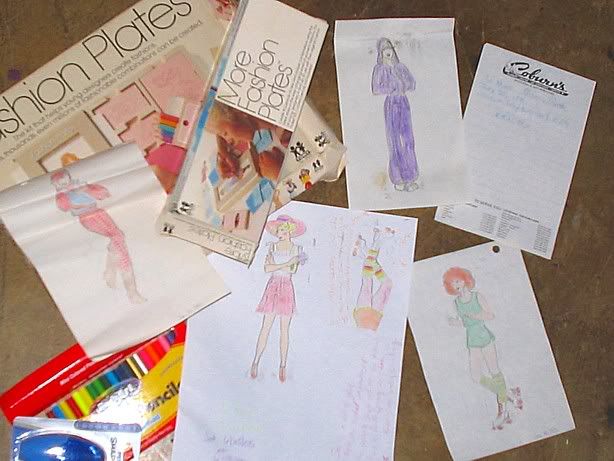 ...along with a box of FIFTY! mapcolors, a ream of paper, and a pencil sharpener.

it was time to make more rainbow striped knee socks with orange-wheeled white boot roller skates and really short gym shorts. and chicks wearing brimmed hats and picking flowers and applying gaudy makeup like she's some kind of circus-freak whore.

the following day, i met [Bad username: babyjewsus] (aka: dave) at the meridian room. he brunched on pancakes. i brunched on brunch-style drinks. mojito!

late that afternoon, brian came over to watch tarnation, which had finally decided to make its appearance on dvd. even though he had put a massive dent into my stash of 100 fla-vor-ice's, he was still hungry. so we went to green papaya for a late dinner. had it been a different time and place and had i known nothing of our history, i would've thought that i was about to start dating someone. because i'm insane. but i guess not too insane for reality's sake...