my life as an underemployed contract worker has consisted of a string of mornings interrupted over and over again by the sound of my alarm. as with the repeated application of most stimuli, my hypothalamus has become expert at considering it meaningless and thusly screening it from my conscious mind. so much so to the point that ttyki has returned to her ways of waking me on occasion by tapping me on the shoulder.

unfortunately, saturday morning fell in the grey period between hypothalamus intervention and ttyki takeover. as a result, i awoke an hour late to meet my mother and father in richardson. dad was helping donnie in the yard which always leaves us ladies to peruse estate sales along with patrons begetting all the courtesy of wal-mart shoppers at xmas. fortunately, estate sales usually start on thursdays so pickings are slim by the time we get there. this saves me money. though i did end up with four vintage pink-and-orange napkins, a small canvas bag that appears to have apples and planes on it, an autobiographical account of life with picasso as written by his mistress, and a funky vintage red vinyl child's suitcase with asymmetrical front zippered pocket... all for the low price of $3 and the mental anguish of being confronted by life at its end.

the day was punctuated by lunch at einstein bagels and a blood pressure check by donnie (a-okay!) before i returned home.

that night, i was finally allowed to come back over to nj's after his shift at the sex store. as he was still not feeling up to full capacity (a claim he would continue to make for days after in order to deflect any activity he considered less than desirable), we skipped erin's home-warming party and opted for saturday night television behind styrofoam containers of cosmic cafe carryout instead.

i resisted dragging myself out of bed sunday morning until receiving a confirmation phone call from E for brunch at the meridian room and a showing of the upside of anger at the angelika. it wasn't too bad a movie considering it was in a genre that includes kevin costner as a good time alcoholic.

i recently confessed to nj that i sometimes feel like his stalker. in keeping with that mood, i drove straight from the angelika to his apartment to find him wearing the unlikely combination of vintage button down with GAP striped pajama bottoms. he was on another downward swing. a downward swing covering his chronic lethargy he was attempting to disguise as viable illness. he followed me home to use me for my internet connection while i entertained myself by reading up on my new copy of SQL in 10 Minutes.

by monday, there was no disputing nj's sick time was up and besides, the weather was slated to be fantastic for at least four days in a row. we decided it was a day to work outside... nj correcting a friend's spanish and me reading that damned SQL book. but at least we were on the banks of the sometimes-smelly turtle creek. we even happened upon a duck with her gaggle of six new babies in addition to the countless expected turtles.

when i showed up unannounced tuesday afternoon at nj's after my trip to the grocery store, he tried to tell me his allergies were acting up too much to walk to the grapevine for a beer. i said "okay, i guess i'll just be on my way then" enough times to change his mind. it turns out this used to be a haunt of nj's, but i had never been before. we were told by both the bartender and a martini-happy patron that we were ghosts and gazelles because they had somehow not seen us enter through the tiny front room. a $2 red stripe in hand, we found our way to a nice spot on the back patio where nature was doing it's best to take back over. we even played a game of HORSE (i lost). after a stroll across the street to explore the old, abandoned scottish rite hospital (now taken over by transients), i walked nj back home and stayed only long enough to watch american idol, god help me.

wednesday consisted of a day fully planned and announced. nj had never seen the sights of fort worth. we started with free wednesdays at the modern. built just a couple of years ago, it is a marvel of concrete, glass, and annoyingly twisted floor plans. we bolted through the dan flavin works in fluourescent lights (yawn) and concentrated more on the architecture and the echoing art piece called vortex.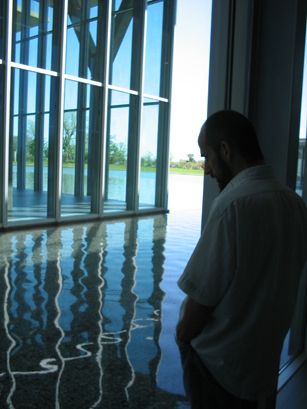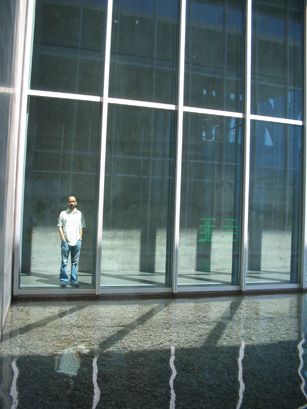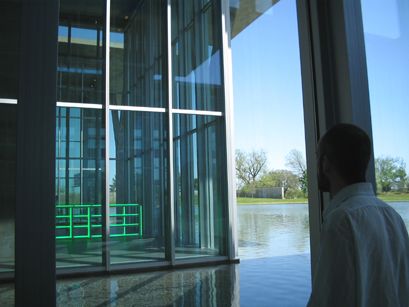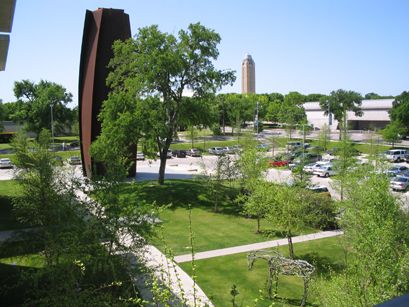 we were starving at this point, so we had lunch at the vegan Spiral Diner. i had been waiting to eat there for a couple of years and nearly begged them to open a location in dallas.

bellies full, we moved on to the kimbell to peruse the small, but impressive permanent collection before basking for a bit in the trees and fountains out front. we had planned on lounging on the lawn as i've jealously seen so many others do in the past, but nj suggested the botanic gardens might be more scenic. i agreed. and surprise... free yet again! unlike the $8 required of each of us when we recently went to see Dallas Blooms at the dallas arboretum.

the fort worth gardens were lovely and encouraged you to stray from the few manmade paths. they were much less purposely manicured than the dallas garden and constantly made you feel you'd just discovered a new, overgrown place. after the throngs at the arboretum on a wednesday afternoon, i was surprised at the low numbers of visitors in fort worth. we saw rose gardens and bees swarming on flowering bushes. we attempted to smell herbs in the fragrance garden. we watched tiny mexican children in tiny tuxedos and cinderella gowns three times their size being photographed. we saw a man napping on a bench and spider webs hanging from trees. we hopped down into the creek and climbed a magnolia tree. i wished for a backyard like the botanic gardens. for free. and with yardsmen. and no property taxes.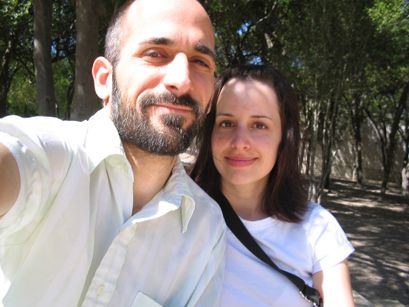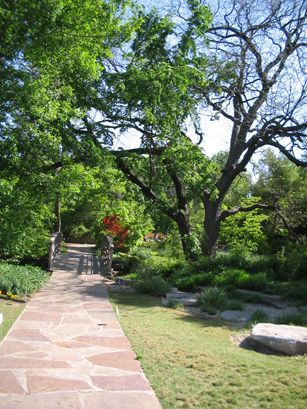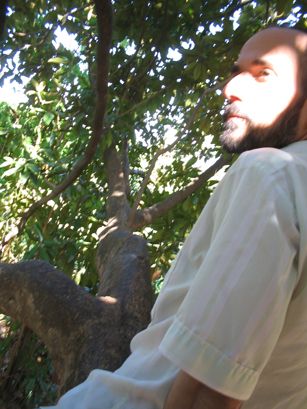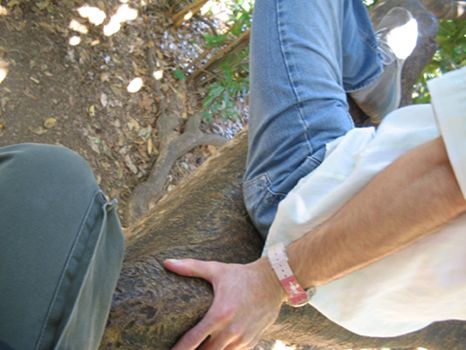 *brian and beth sitting in a tree. how disgusting.



today, i've already had my dose of outdoors time by having coffee with fry on the patio of cafe brazil. i've begun rooting for them to bring my no-foam lattes with foam since they've done such an excellent job of it so far. we drove around the backside of deep ellum trying to determine the reason for a slew of satellite receivers on the roof of what appears to be a boarded up building. and, as quite an underemployed treat, i had him stop off at the liquor store to purchase another bottle of irish cream before my current one had even run out. my goodness. the large livin'. tonight, nj and i are off to the nasher sculpture garden for their new nighttime free thursdays. sometimes, i think it's actually nice to have low cash reserves... it pushes you to search nooks and crannies for alternative entertainment and helps you enjoy what you pay for even more.