this is retarded! i'm calling scotty.: exclaimed nj into the phone attached at the far end to his mother's ear to the gasps and rebukes of victor, daveM, and myself.

you just called your mother retarded!: we all chanted mercilessly to his profusion of denial.

after winding back on the road one last time, we finally found the country club where the reception was being held. we ran into ricky with bellini in hand and were easily persuaded to make a beeline to the free half of the bar. my bellini was tasty, but left me with half a glass of frozen tidings causing me to also carry a plastic cup of beer in my other hand... likely making me appear to be buckling under the stress of wedding guest-dom. the bellini and the beer helped me to readily accept that reality with ease.

we were seated at table 5 and wine glasses were filled as i noticed a delightful iced wedding cookie next to my plate. why wait for dessert? and oh my were they just the passenger to ride along in the vehicle of mixed alcohol buzzes which were clearly filling the freeways of the dining rooms. the vegetarian "spaghetti" dinners arrived slathered in cheesy goodness... as expected. so i accepted a bowl of steamed veggies instead, but secretly would have been just fine eating the rest of the

as i would only admit days and days later, i seem to have become somewhat inebriated by this point which explains why that evening at the country club was not much more than a blur. i recall a near-colicky baby breast-feeding in the bathroom and champagne which accompanied toasts i barely remember. groom's cake appeared at the table around the time i noticed the absence of the bridal cake. i hope that the few bites i took did not leave the inevitable "black cake teeth" in my mouth for the hour after consumption.

when i was spontaneously informed that the ushers were expected to have a dance with their girlfriends, i "accidentally" managed to be in the bathroom when it started up. nj seemed okay with that. then, to further secure our future in matrimony history, he caught the wedding garter after i forced him out onto the dance floor with the other bachelors.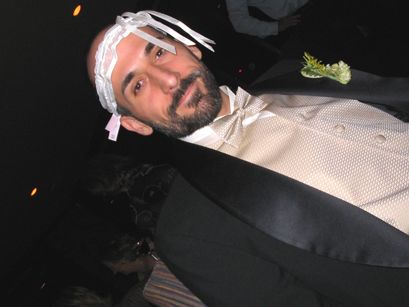 about the time the elders began thinning out and the music began switching to disco, the bride and groom made their run to the car amidst a shower of rose petals... some of which fell into victor's cup of beer along with my rose-petal-doily-cone. he drank it after i offered a kiss on the cheek. now that i've typed that, it seems like a rather odd thing for me to have done. or maybe not so odd. what was odd was the return of the bride and groom after their departure. THEY FAKED IT!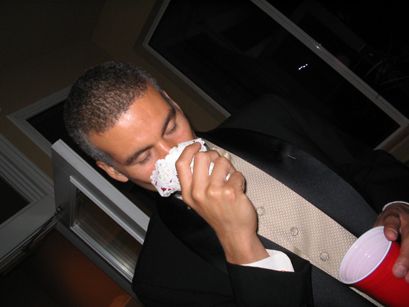 *victor huffs his doily



nj and i still took it as a sign that we should leave, though we would be sorry to miss witnessing the inevitable fiasco to result from both ushers telling us they were honing in on the same woman. sadly, we had no time for it. instead, i was ready to change into shoes i could actually walk in for our outing with nj's friend and former roommate jason.

we incidentally wound up in a small bar named isis. despite the obvious pyramidal accoutrements, i found myself liking the joint... particularly the parachute stretched across the ceiling and the one table with pillows instead of chairs. after another beer and a half, i felt myself becoming very sleepy. only to learn we were off to another bar for a reason i can no longer remember... except that there was a bridesmaid from another wedding egging us on to maintain a front of solidarity to get into location #2 without having to pay a cover. location #2 wasn't having our free entry and we went across the road to something awful called "cock 'o' the block". i think. i don't know. i was damned tired. and, as usual, nj refused to carry me.

needless to say, it was 3:30am before we hit the sack and hit it hard. and we still had to rise at a decent hour to have lunch with the family before hitting the road back to the tune of futuristic, gun-toting, drug-taking nannies in the storytime of the trip ...bunny modern.

prepare to now experience a backlog of wedding photos:




ricky at la calle doce. please note the pointy breasts in the photo behind him: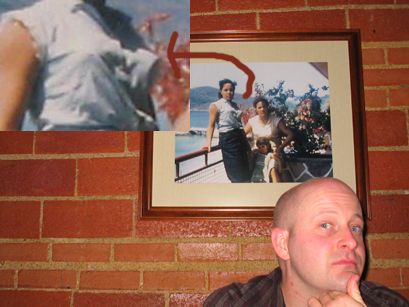 the ladies room at city bites: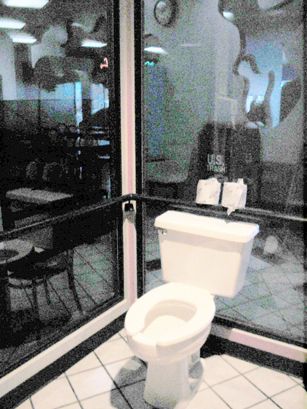 nj at abuelo's for the rehearsal dinner posing with the portrait of a horrifyingly disfigured mexican child: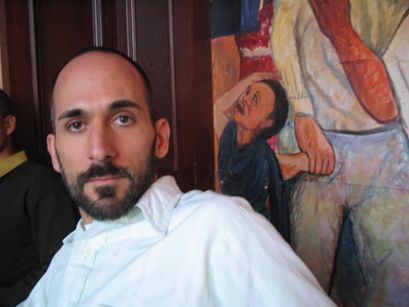 tapwerks: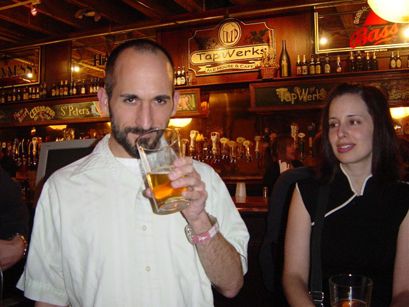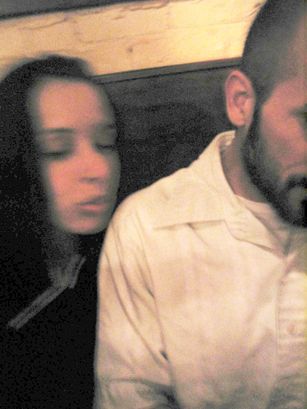 nj and victor walking down an alley after the rehearsal dinner and pondering whether or not this is the back entrance to a strip club: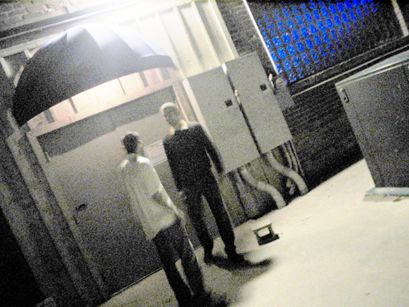 a series: ushers in love: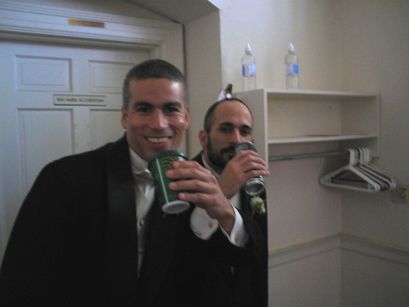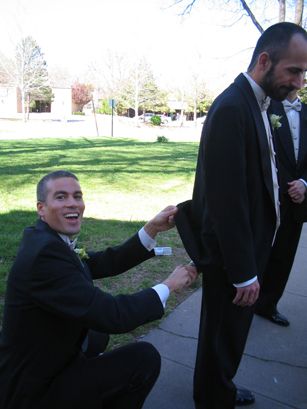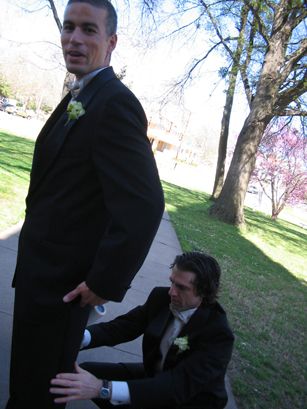 peeing on the groom's party: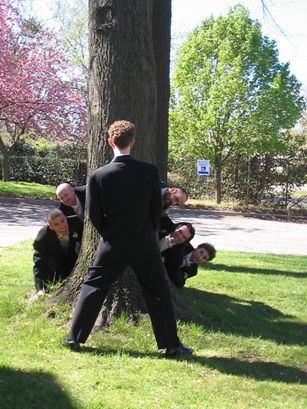 the happy couple: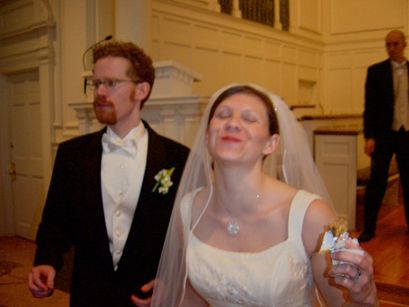 i had no idea daveM's crotch was on my head for this: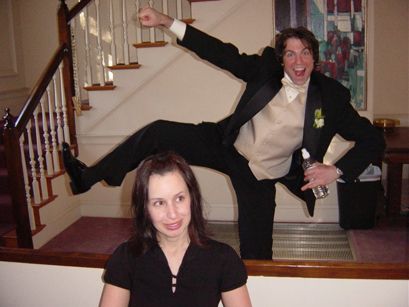 the church featuring a lovely spring day: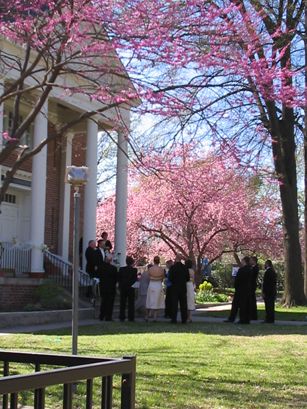 nj watches as the photographer unleashes her penis measuring device on him: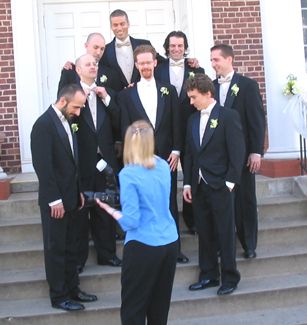 nj and ricky after saying their "i do"'s: