in texas, it's not unusual to have spring-like weather in the middle of january.

as i pulled on the "capitol hill" skull and crossbones short-sleeved T that
denverbettie and
jeni_mae sent for my last birthday, i realized it was fitting for both the weather and the occasion.

i drove
nakedjew downtown and we walked the block around Old Red (the old courthouse) wondering if we had come to the right place. i finally spotted my friend alan and he confirmed we had found the location.

eventually, we got a visual on the fake caskets approaching from a couple of blocks away. annette was serving as a pall bearer and began to fear for her job when a reporter from an LA paper began snapping her picture. it would turn out that little press was given over to anti-inaugural events after all. surprise surprise.

the pall bearers converged upon us and the crowd grew to about 200 as NJ and i helped hand out tealights and cups. we heard from three speakers as the sun set behind reunion tower and we quickly stopped in the middle of the rather boxy JFK memorial to snap a photo to commemorate the event.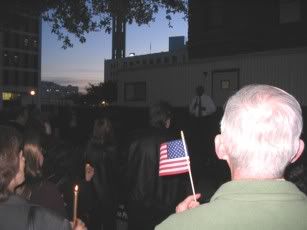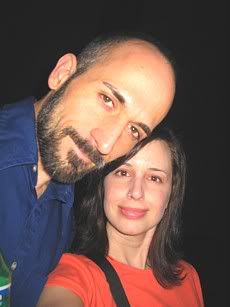 though we had dined countless times at cosmic cafe, i had somehow managed to miss a curious habit associated with NJ's consumption of the wildly popular entree Cosmic Stir: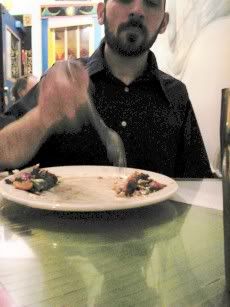 *finicky jew enacts his own version of segregation



we picked up dave and decided to strike out on a new path deep in the heart of crack town. oddly enough, the location was barbara's pavilion... a gay bar with karaoke thursdays. it was small, but spiffy. a short, mexican man in a cowboy hat wandered in, hands laden with rave-quality glow stick necklaces. i was unsure what he thought he would find inside. a dancehall? the county fair? some of the locals made a purchase to help him keep up the charade.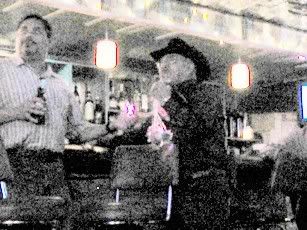 unfortunately, the gays were busily side-stepping all of the interesting numbers on the selection list. we entertained ourselves for as long as possible and i took photos of the array of plungers in the ladies room.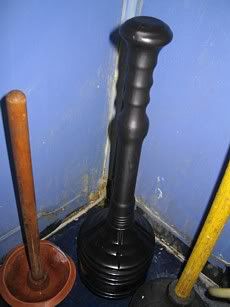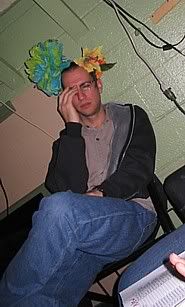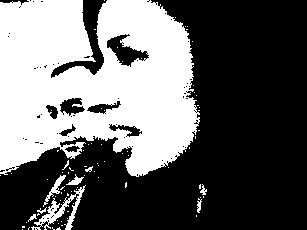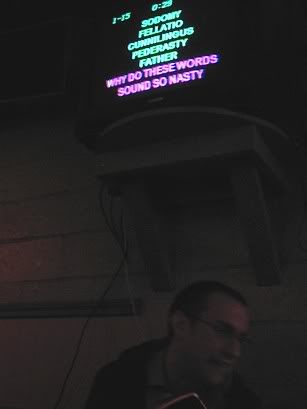 once lucinda showed up and we all downed a drink, our original trio decided to move the party to doublewide. nothing out of the ordinary happened from that point on. i wish i could say it had.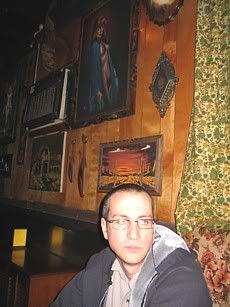 *can you find all five of the pussies in this photo?