after returning from the "eyes wide open exhibit", i immediately jumped in my car to drive over to NJ's and return the message he'd left on my answering machine. he had come incredibly close to accepting a promotion at the company he quit last september. it turned out the department didn't have the extra cash after all. we think he side stepped an unhappiness-for-money land mine anyway. he was back on track for teacher-hood.

when i showed up, he told me he was leaving for his hometown of OKC to pick up some transcripts and get a referral from one of his professors. he invited me to go with. of course i said yes.

we hit the road at the blazingly early hour of 9:00am and settled in for the three hour drive. our first stop was norman, ok where OU is located. it was a lovely day and we walked and walked. there was mexican food in there somewhere and a short visit with professor grady... a lovely and gay fellow who gave my boyfriend a strong, secure body hug that lasted long enough to cause my eyes to involuntarily look away. after grady finished stroking NJ's arm hair for a moment, we walked back to the car and drove to his brother's house in moore.

NJ's a very sleepy boy, so there was a short and restless nap time in the OU football themed bedroom before hitting a johnny carino's for dinner with the family. in the same parking lot and attached to an Academy sports store was a large space reserved for people to come and watch the tv broadcast of a church down the road. it wasn't even a church. it was some creepy church annex with a giant tv screen. eek!

our evening's entertainment was slotted for The Boom. NJ and i arrived ahead of his friend april and her friend amy. we were quickly greeted by a very petite man in a very small, tight dress and a very large wig. it would later turn out that this was brian (aka Robin Fonteyne)... someone NJ had gone to college with. NJ was twist-his-nipples surprised!

after quizzing the friendly cowboy-hatted bartender about his selection of fine brews along the lines of miller and budweiser, the drag show finally got underway.

my favorite number was performed by our hostess Kitty while wearing a skirt suit with knives stuck in the back and performing a very enthusiastic running man styled dance to working 9 to 5. brian/Robin performed a spirited routine to when doves cry as s-he spun about in a pair of victoria's secret black lace panties and a short leather jacket. i couldn't take my eyes off the very very large Stephanie DeBarge with calves the size of my torso and a waistline found only by the indentation of shis pantyhose. we drank drinks and slipped robin dollars before calling it quits.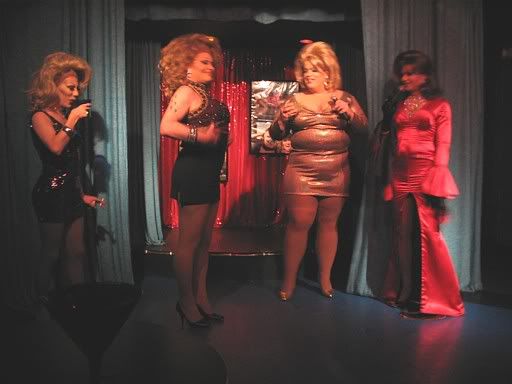 *brian is on the far left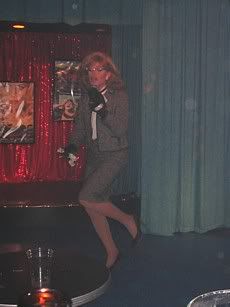 we did our best to arise early and failed as usual. we were headed back into OKC for a half day of fun.

our first stop was lunch at a greek restaurant where i ate enough rice to feed half of asia for a day.

as long as we were in the area, we decided we should make a quick stop by the OKC bombing memorial. it was really quite lovely and there was a long fence on the perimeter where mementos had been placed.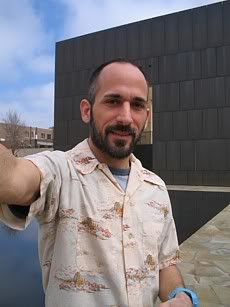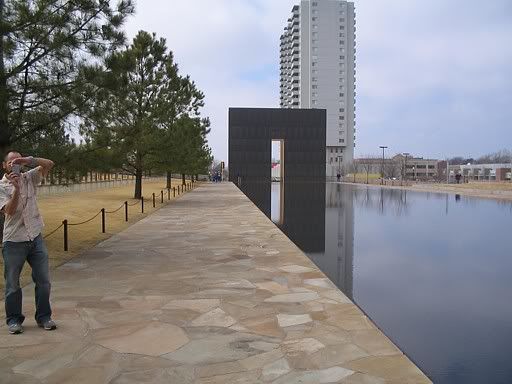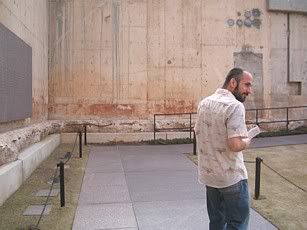 upon leaving the memorial to walk back to the car, i saw this: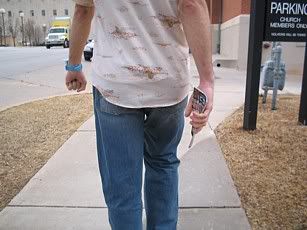 it makes my head sing well you can tell by the way that i use my walk. it makes NJ shriek it looks like a girl's!

after paying off a bum with 44 cents to let NJ out of his side of the car, we dashed into the relatively new OKC museum of art. it's a gorgeous building and our primary focus was the permanent collection of chihuly glass. we were temporarily sidetracked by the Kid Size exhibit which made me want to pop out a stream of 50 babies so i could use all of the fantastic pieces that were on display. here is a little play store from the 40's: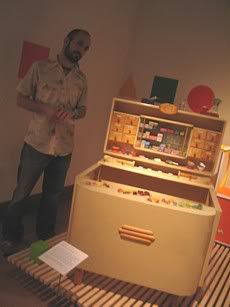 we were racing the parking meter so we quickly made our way to the chihuly. the museum was rather empty at that time of day with the exclusion of the guards. so we snuck about like thieves in the night snapping flashless photos before learning photography is allowed.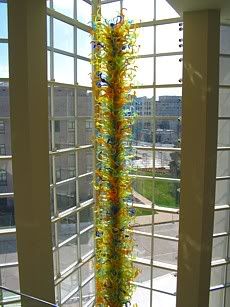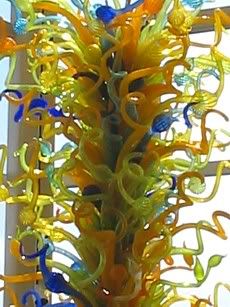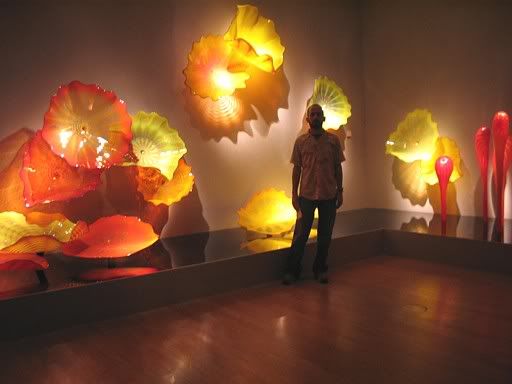 some day soon, i will acquire the collection of photos on NJ's camera. so be prepared for a lengthy exhibit of photos of ms_pooka to make up for all of the photos of NJ i force you to look at.

we still had a few minutes to spare, so we darted into the Light and Movement exhibit.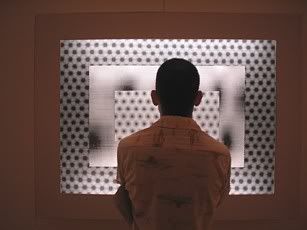 i read to NJ most of the way home just to try and keep both of us awake. we stopped halfway to stretch our legs at a state-appointed "scenic outlook". i don't think many people know that there are mountains in oklahoma. the arbuckle mountains. just look at them!