not long after my return from the big apple, i directed my very lost friend annette to my apartment to pick me up. we were headed for city hall plaza which might be familiar to many of you from watching Walker, Texas Ranger. it's not familiar to me from that, but i'm sure that's the case for you.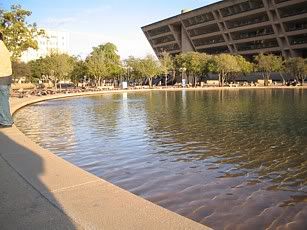 we wound our way back downtown, found a parking spot, and paraded ourselves by a long line of homeless/unemployed/shiftless people congregating outside city hall.

our destination was the eyes wide open exhibit. i had thought it might be interesting, but not highly inspiring. it turns out they did a really good job. one side sported line after line of shoes with each pair representing a unit of iraqi deaths since the war began. the second side had a pair of combat boots for each US soldier killed and were arranged by state. each pair had a tag stating the soldiers name, hometown, and age (most in their late teens and early 20's). some pairs had mementos and photos attached as well. this was what drove it home for me. it was highly personalized. all of a sudden, i could see those shoes being filled by bodies. a lot of bodies (1499 at the time).

the exhibit, at this point, had already traveled to many locations. upon reaching dallas, the first pair of boots was stolen. we were also kind enough to send out protesters. what they were protesting, i can't say for sure. the night they showed up was the night that the conservative list of names of all the confirmed dead were read allowed... iraqis included. i was told the protesters would shout cute little catch phrases like "killed by terrorists" when the names of iraqis were read. it would obviously be absurd to think the US military had caused even one iraqi death.

there were a series of plaques laid out containing the name of each casualty and an explanation that the death rate from fighting had increased 3.5 times since the beginning of the war. common illnesses like heart disease are no longer the number one killers. violent death is.