over the last couple of years, i've been in the periodic habit of purchasing for darren those awful cellophane-wrapped, iced iconographic cookies at starbuck's that you can really break your teeth on. i think it all started because we discussed how awful red icing is and lo and behold... i found one laden with red icing for him.

anyhow, i felt awful that i was too late too acquire his Vday cookie for him and while we were resting up in grand central station, we visited the market inside. well, there was a whole turnabout with iced cookies wrapped in cellophane. and darren simply loves NYC to boot. so i picked the one and only burro from the lot. he was obviously special.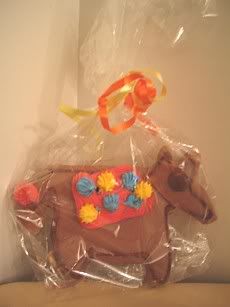 i was terribly concerned one of the burro's appendages might become damaged to the point of actual breakage, so i placed him gingerly in one of my sister's little shopping bags and then refused to let her carry it. he survived the day and then i lovingly placed him in a nest in my carry on. by the time i had settled in for the first flight, i checked in and the damage had already been done. there appeared to be a fracture of the front leg and HE HAD BEEN BEHEADED!!!

woe is me. i was woeful.

so we get home without further incidence. then fri (3/4), i accompanied darren to a dallas museum of art "arts & letters lecture" featuring cartoonists from (ironically enough) the new yorker. after listening to the editor expound again and again on the various, yet redundant, nuances of cartooning and all the metaphysical and social ramifications of cartooning, we were ready for us to have some drinks.

we flew over to the meridian room where E eventually joined us. it was then time to pull out the burro. darren was kind enough to share him with us. he was tasty. but then, i started to feel a little bit sick that i had eaten some of the burro. how could i?