the sun was bright. the sky was clear. we had a breakfast of chocolate croissants, berry scones, pretzel rolls, grapes, and raspberries waiting for us at amy's. then we were off again. this time, amy's 4.5 month pregnant belly and new yorker's disinterest in all things touristy decided to stay home. the remaining party of six went to work.

stop #1: the empire state building.
mom and i had made it as far as the lobby of this landmark the last time we visited nyc. we had decided that was sufficient and preferred to not add length to the lines traveling to the observation deck.

i have this to say... those empire state building line makers are tricky. tricky indeed. we hop scotched from line to line for about an hour. we turned corners and switched floors and saw the line double up on itself in corridors. at one point, i thought they might take us from the 80th floor down to the basement and then back up again. we went through two security checkpoints. i learned that many new yorkers are angry in their jobs and surely have a blood pressure reading that would raise the roof off the empire state building itself.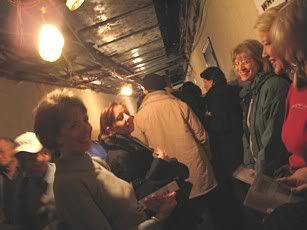 after two elevator rides, we finally arrived at the crowded observation deck. surprisingly enough, there was little to no wind. it's possible it was a hair warmer up there than 86 floors below. i was also surprised to learn that the slow-witted, yet entirely loveable pigeon has no qualms about flying to such great heights.

here you can see an accidental photo of my nostrils enjoying pigeons walking their beats like little, sharp-beaked security guards at dizzying altitudes: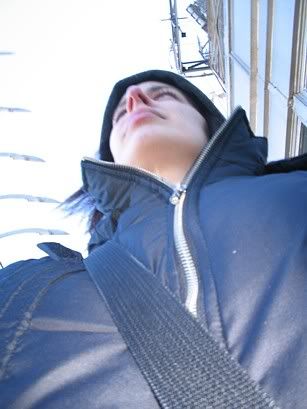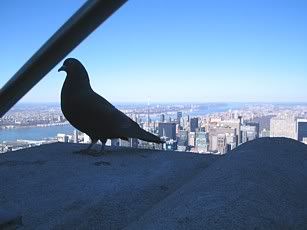 as you can see, the observation deck of the empire state building will knife you if you try to escape it.

bonus photo: the 1970's-issue poo brown toque...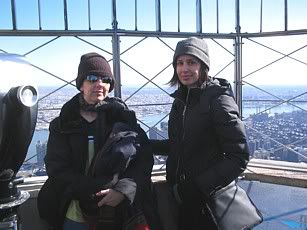 *and she's even holding the coat that ended up destined for a homeless person and wearing the scarf i crocheted her for xmas. my oh my! this picture really is worth a thousand words.



next on the schedule was a walking tour of fifth avenue. we strolled past the library without pause and i adopted a style of tourist photography which did not involve actually stopping to snap the shutter. for example: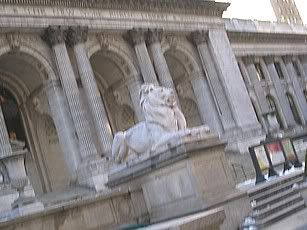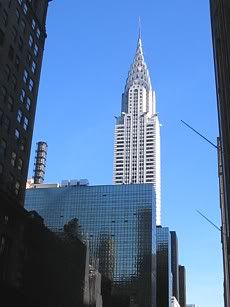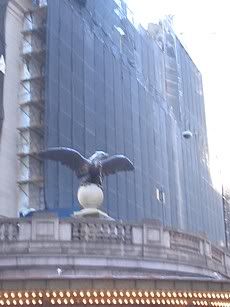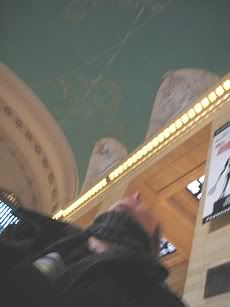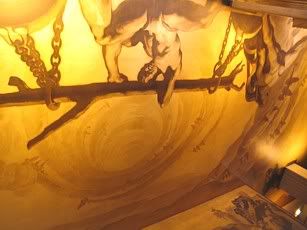 1. public library, 2. chrysler bldg, 3. grand central station ext., 4. grand central station int. & my sister's nostrils, 5. ceiling of the rockefeller bldg showing a crotch shot (capturing this was a happy coincidence)



due to the increasing pain in my aunt's knee and the realization that perhaps we had over-scheduled, tiffany's and the Gates at central park were quickly struck from the list. no saffron trailer curtains for us. we did, however, manage to hit two astoundingly pricy chocolatiers at rockefeller center. it seemed sadly ironic that there were more observers than skaters on the rockefeller ice rink.

we made quick work of st. pat's cathedral since mass was about to start and i just feel plain dirty gawking in the lord's house when his minions are busy singing his glory. it just feels wrong.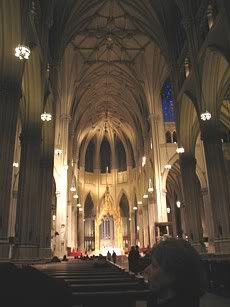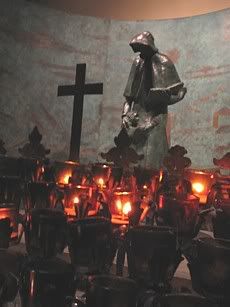 aunt C was ready for a cab by the time we'd made our way back out, but the cabs were not ready for us. and it was, as always, freakin' cold. i inquired about the subway and was informed it was three blocks away. ann shot me a look and raised an eyebrow and then we were off running with lisa in tow. it was a race and we were going to win. we got a little turned around, but were finally pointed in the right direction by a hot dog vendor. this is the part where i saw the homeless person standing outside the entrance with a german shepherd wearing a winter coat. why, he looked just like a little man with a german shepherd head. and did i mention the dog wearing the neoprene shoes? well, he was.

so, we do arrive back at amy's after group #1, but i think just barely. and besides... we had stopped for pedicures and a lovely dinner and to have our portraits taken and to run for the state senate. so really, we did win in essence.

we hit chow bar for dinner and abby ordered an entire fish. AN ENTIRE FISH! it was awful. and there was crab snapping all around me and threatening to invade my space filled with tofu/veg/noodles. amy explained that chow bar, in the heart of west village, was usually filled to the gills. but since it was oscar night, all the gays were at home throwing parties. lucky for us.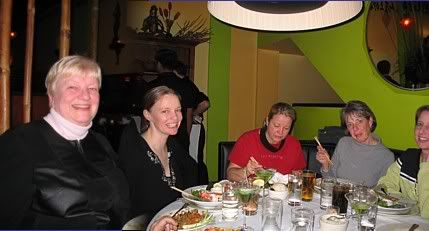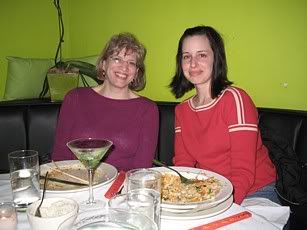 *i was surprised it turns out this restaurant is covered in paint that matches their signature apple-tini's. fortunately, it was too dark in there to tell without a flash. my sister dressed to match the walls, i obviously did not.



i stole one of the polished black rocks that filled the sink in the bathroom and added it to the white rock that came with my ruby foo place setting so that i could take them back to NJ as souvenirs. i've been keeping this a secret, but there was a period in recent history where NJ would gallop about the turtle creek area with bag in hand collecting rocks with which to decorate his apartment. i took to loudly calling him ralph and feigning he was mentally handicapped and on a visit from the home. this might help explain the recent rock-smattered bachelor party photo i posted.

anyhow, fun was had and drinks were had and then we retired back to amy's to finish out the oscars and eat some of the super fancy chocolates my aunt had purchased for us. i shrieked with delight when eternal sunshine finally kicked million dollar baby's ass. stupid boxing movie.

mon 2/28 - NYC Day #4:
it was threatening to snow. we left. i was crazed from the traveling by the time we reached dfw. our threesome didn't even hug... we just waved weakly and mumbled as i broke off to my car. i went to NJ's. we walked to cosmic cafe. we ate. we met dave at meridian room. we drank beers. i had another stella artois which i had firstly consumed at ruby foo's in dave the jew's honor.

THE END