morning rolled into town and though it was still only highs in the low 30's, i was relieved to see there were no snow flurries. as it turned out, the trip was perfectly bookended by snow storms... 6-8 inches the day before our arrival and a foot of snow projected to arrive just hours after our departing flight. but still... it was bitchin' cold. i was the only member of our threesome to bring a hat and, much to my sister's advantage, i had brought two hats. lisa quickly adopted the knit toque of poo-brown color that was worn by my father in the 70's.

we met the rest of the group over at amy's and headed down the street to Cafeteria for breakfast. i enviously eyed my aunt's luscious vegetable stack as i quietly nibbled on my plain bagel and sipped my soy latte. i was saving up for what lay ahead.

it was time for a subway ride to battery park. this is where i managed to jump into the wrong compartment in the subway turnstyle thusly trapping myself and costing us an additional $2. NYC transit should look into doing something about that.

in case it wasn't cold enough where we had been, it had to have been a good five degrees colder by the water. it was so cold that by the time we had left battery park, i realized i had not really looked at the statue of liberty. i'd just snapped two photos and prayed for my sister to stop taking video. i was thankful we had decided against the staten island ferry as i watched it rock violently to and fro over the icy waves and loudly proclaimed "look! it's going to capsize! no, really!"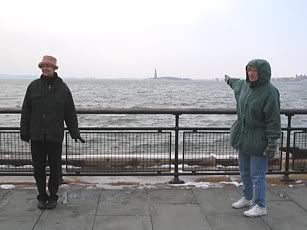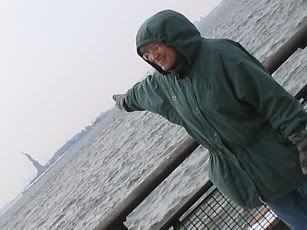 we retreated to the warmth of the ironically named Winter Garden where we could gaze upon ground zero in comfort and then split into groups. i had a nice, long catch up session with amy as children rolled coins down the staircase in front of us and i resisted the urge to pounce on a nearby quarter. since moving to a location sans washer and dryer, quarters are a hot commodity in my life.

then it was a quick walk past ground zero and past the strangely out-of-place vendors selling NYPD and NYFD t-shirts from card tables. we visited st paul's chapel... presumably the first church erected in NYC and visited by the likes of Pres Washington and the first governor of NY. of course, the reason for it's fame is it's close proximity to ground zero and the fact that it suffered no damage during the massive carnage. it also served as a relief station for workers at the site.



*this is winter garden on 9/11. it looked much cleaner when amy and i shared a bench.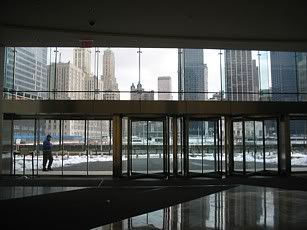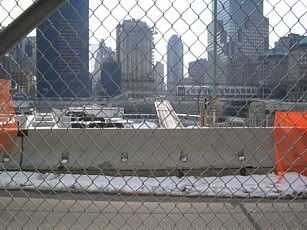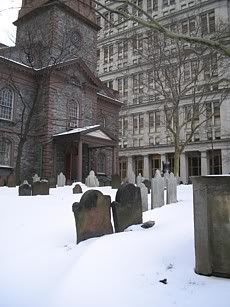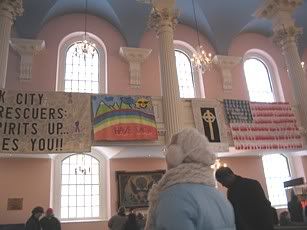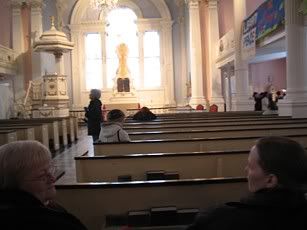 by now we had worked up an appetite and began walking to chinatown to eat at the aptly named Dim Sum Go Go. the vegetarian sampler was a colorful array of mysterious and gelatinous treats. my sister found solace in a beef filled bun, but this was the afternoon where i later caught her with the mcdonald's bag, so i guess she hadn't found that much solace.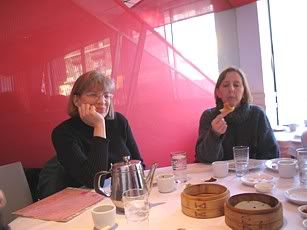 we couldn't resist popping into a chinese candy store that included bins of dried fish. jesus christ. the things some people will willingly put in their mouths.

we wound up at the manhattan mall (?) for a trip to the sanrio store for abby and lisa managed to find herself a new coat so she could shed the one her co-workers had made fun of her for taking to new york. (this is also where the McD incident occurrred. tsk tsk.)

we made an effort to stop in at teany's for dessert, but the seven small tables just weren't havin' us. i did go inside... just so i could say i'd been there. and so i could trap some warmth before the return trip to amy's where we rested a bit and snacked on some frightfully heavenly champagne truffles.

then we were off again. this time to the gershwin theater to see wicked. i'm not necessarily a freak for the musicals, but all that aside... you can't help but swoon at the magnificence of a broadway production. and glinda really pulled off her character with the perfect flair of humor.

well, all this eating had left us hungry and we scooted across the street to ruby foo's for some more pan-asian cuisine. thanks to fish flakes in the miso/tofu/mushroom soup, i had some dim sum while i watched stomach-turning slabs of raw fish spin by on the lazy suzy wong.