wednesday night, i said my farewells to darren at the meridian room. we had our alone time before joining dave and NJ (who had astonishingly similar plans as we) at a table as a parade of erin, lucinda, and jon strolled by at intervals.

when i crawled into bed thursday night and counted off on my fingers the five hours of sleep i was looking forward to harvesting, my neighbor pumped up the volume and set her enormous dog into a barking frenzy which lasted a good half hour. par for the course when i actually need sleep.

4:30 ticked off on the clock and i was up and ready for my very prompt 6:30am departure time. i hit the road bundled up in my new coat all ready to meet my mother and sister at the red roof inn in irving on esters. i found esters with 15 minutes to spare, but no red roof inn. where did it go? i'd done this before, but with much greater success. the clerk at the gas station had no idea and what little was left on my cell phone battery completely discharged upon the first ring to my mother's phone. i drove the loop again before stopping at a 7-11 and being informed i was at 183 and esters... not 114 and esters. holy shit! i cursed a little before calming down enough to scribble her directions which managed to take me in completely the wrong direction. after a total of about 45 minutes of insanely panicked driving and sucking back the tears as i prayed this wouldn't be another Mexico Incident, i found the hotel just as another shuttle was pulling up. motherfucker.

the two plane rides were standard issue of pretzels and granola bars minus the fantastically fluffy and fat white flakes of snow that were falling in detroit which ended up setting us back about an hour and a half.

i did notice a marked difference in the passenger makeup from dfw to detroit versus detroit to nyc. the hip quotient threatened to hit the roof. and my sister began feeling self conscious about her coat and her purse as she began making promises she was going to purchase new ones once our destination was reached.

we landed at la guardia, gathered our baggage, and located Andy the Limo Driver whom my mother had hired to retrieve us. after arriving at the wrong hotel (Andy the LD should pay more attention when his fares are giving out their destinations), we finally arrived at the sheraton manhattan chelsea and checked into our small, but clean and trendy room. i was largely unafraid of actually laying on the bedspread and i even slept on the pillow issued by the hotel. and this after watching a special the week before on the overwhelming presence of urine and semen available on practically every surface existing in any hotel room or cruise ship cabin... no matter the price or reputation. i did, however, ensure i made mention of the possiblity of semen and urine being on any surface that my traveling companions might be contemplating touching.




then it was just a short three block walk to my cousin amy's loft in what used to be a furrier.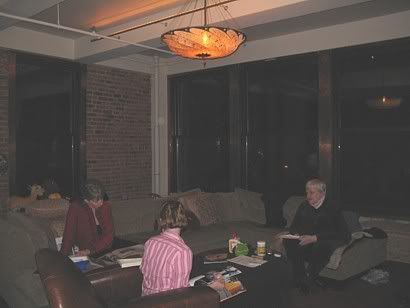 *check out the rockin' bar of light next to the light fixture. these were installed alongside each beam in the ceiling. took me a full day to realize they were even there.



this was going to be a girl's weekend out ... courtesy of my mother's sister cathy and it included my other cousin ann and my cousin's wife abby. friday night was spent recuperating from our travels and my aunt put my mom and abby to work in the kitchen making guacamole, dahl dip, edamame, carmelized-onion-and-oven-dried-tomato-pizza, etc. the rest of us watched finding nemo as cousin amy's 2-year-old son bo performed a strip tease featuring his gut and butt which launched us on to the non-stop pin worm joke. if the trip had ended after that night, i would've been happy.

i get the feeling my poor sister was floundering like a culinary fish out of water during the weekend as she side-stepped several morsels and nibbled conservatively at others while on the lookout to supplement her diet with fast food and wheat thins. in the meantime, i gorged on everything vegetarian that was put in front of me.

late that night, i crawled into the twin-and-a-half bed with my sister and made sure to spread my pin worms to her side. knowing that now the full familial transmission was well underway, i snuggled in to dream of NJ as he began his foray into the world of the austin bachelor party.