last friday ended with a semi-impromptu invitation to NJ's to talk. it seems that negotiations went well enough and we spent the remainder of the evening watching welcome to the dollhouse over predictably sabotaged taco bell orders.

saturday i finally made good on my invitation to E to meet over coffee. we accidentally shanghai'd a table from an older man in the overly crowded black forest cafe and set to work on our lattes. but then, about halfway through mine, i started feeling... off. i wrapped up with E and scurried home in the rain only to reach my couch and feel as if my face was trying to set itself on fire.

sweet jesus. my perfectly manageable head&chest cold had instantaneously mutated into the flu.




i called NJ to see if he could bring me some meds on his way out. i was going to have to miss his birthday eve celebration and i was not happy. even though he had stuck his tongue down my throat the previous evening, NJ's dis-ease upon entering my lair was palpable.

sunday rolled around and i was still alive. as far as i could tell, my brain hadn't completely fried yet, but it was still trying. i was panicked that the tylenol cold was not properly battling my fever and woke NJ from his three hours of sleep to bring me some ibuprofen as well as a new thermometer. according to that one (and consequently, the new one), my body has a chameleon-like temperature range which can jump from 101.2 to 97.4 to 100.9 to 99.0... all in the space of five minutes.

at some point in the afternoon, i had taken enough medication to think i was over the hump. i hit the home depot and whole foods before deciding the stop at the grocery store would have to be moved to phase two so i could rest. after collecting vegetarian sushi, a miniature cheesecake, a jar of kosher mini dills, some southwestern "eggrolls", and a gift card for cinderblocks... i felt adequately equipped to greet NJ for his birthday.

frankly, i was surprised he had invited me and my germs over. the fact that he used a paper towel to hold his thermometer when i gave it back to him made me realize that "someone" has some confusion about how illnesses like the flu are spread.

we cozied up on separate ends of the couch and watched mommy's bludgeoning in heavenly creatures. eventually, NJ relaxed enough to cuddle up to and make out with my legs... a part of me he apparently perceived as being germ-free. i ventured as far as touching the back of his hair with my fingertips. i discerned no visible flinching.

at 11:59pm, i wished him a happy birthday and at midnight, i wished him a happy valentine's day. i'm sure he gets that often.

i went home monday morning to shower and then we drove to white rock lake to enjoy the springlike weather. for me, this entailed laying on my back on a picnic blanket, but still.

the only photographic evidence: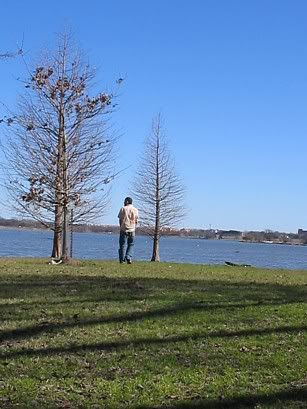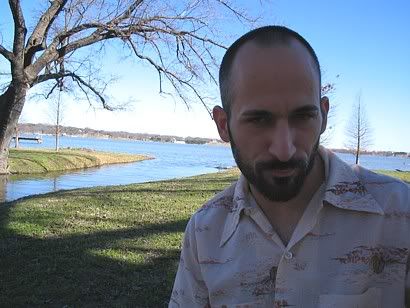 we were barely able to squeeze in dinner at cosmic cafe before it was time for me to collapse in a heap on NJ's couch again. i think, at this point, he had resigned himself to the fact he had already been exposed to my germs.

since then, it's been a cycle of me declaring i'm over the hump and then feeling shitty again. i think this morning is a real break through. my energy is slightly above ground level and you wouldn't believe the things that have been coming out of my nose.

there's even hope that a limited return to my construction project will be made in a couple of hours. let's hope so... because i promised myself this dump was getting cleaned as soon as i was finished. and i have to be honest: NJ has actually become allergic to my apartment. i'm not kidding. if my calculations are correct, he actually snotted his way through an entire roll of toilet paper in the span of 3-4 hours last night. and it was a double roll!