i was up and out of the house at a semi-decent hour. i was excited not so much because i was about to receive a gift, but because i was about to be rid of my last gifts to give. hot damn... it was officially over. fold up the tree and sweep up the tinsel leaves.

i pulled into the half price books parking lot at the same time as the monster. i could see the glint in its eye as it turned the corner in its custom deluxe granny-pimp-mobile and the sun it hit just right. we piled into the black forest cafe and the caffeine began flying in sync with multiple gift bags and giant bottles of shiner. then E quickly brought the mood down with a whitman's sampler of other people's bad news.

we eventually had to tear ourselves away so that we could recoup for what came next. it was the eve before new year's eve and it was time to begin ramping up to party speed, so
nakedjew arrived a couple of hours later to drive us to lee harvey's for the wig-themed birthday gathering of a periphery friend named lorna.

being the timely creatures we are, we arrived well in advance of anyone else. the monster showed up and E quickly brought the mood down by saying "the last time i heard what sounded like the clippity-clop of the Four Horsemen of the Apocalypse, my greyhound was in the other room having a seizure."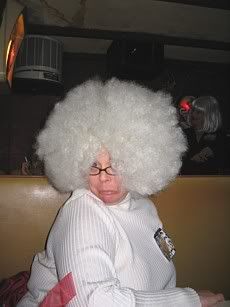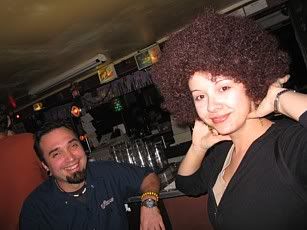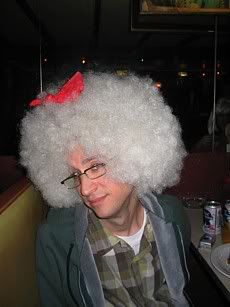 after donning the hairpiece of one of the guests, i was forced to begin calling
nakedjew by his much maligned christened fratboy-esque middle name "Todd". here, i think this will explain why: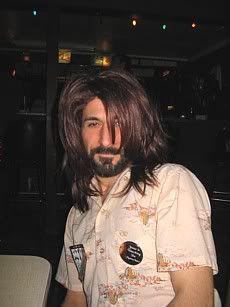 it was either that or "Charles Manson".

one of the sorriest games of pool was played by yours truly and i quickly realized that we had already approached our acceptable limits of alcohol intake as certain individuals began putting stockings on their faces and another individual allowed one of the individuals to apply her lipliner for her. probably not a good sign.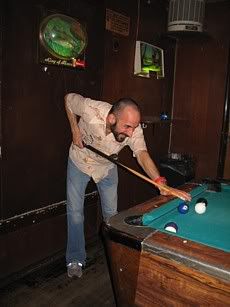 (*note the "stocking yarmulke" on the real jew)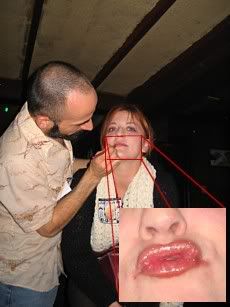 that's not the least bit true. the unfortunate and bitter truth is that no amount of alcohol is required to lure
nakedjew into a state by which he will put stockings on his head or apply the ladies' lipliner for them.

i maintained such immense and unbelievable self-control that it wasn't until we were exiting for the night that i donned the brown fro wig and made a fuzzy mullet with my own hair hanging down the back. alas, the photographic evidence belongs to lorna-the-birthday-girl who snapped away and then held my hand in a death-grip-like vise until i thought the ring on my middle finger might sever the two digits alongside it.