underneath the radar of my conscious mind, i heard a muffled noise. my eyes opened to diffused sunlight and the realization that it was xmas morning. as usual, my parents were already up and the fire was ablaze. i again secretly wished we could forgo the headache that is xmas-time gift-giving and instead celebrate the day by climbing on to the couch with a cup of coffee and conversation.


dylan had woken up at about 2am and then both of the kids were up by 4. my sister was only able to hold them off until 6, so they had already had a full day. my heart wept as i handed out my gifts, knowing their lovely exteriors were about to be demolished. i had repeated over and over how my gift to everyone should be the stellar wrapping jobs i had created.



this went double for my mom's gift of Beer From Around The World. 12 countries contained in 12 bottles... each individually wrapped and sealed with flags. it was truly a labor of love as i traversed the metroplex buying and taste-testing beer after beer. this was also a step up from two years ago when i gave mom White Trash Xmas Beer, which she mistook for Beer From Around The World (despite the enclosed note indicating otherwise).



i suppose i should also give a shout out to my grandmother for the least surprising gift containing a surprise. as i was handed this special package...


... i could immediately decipher it contained one of the giant hershey bars for which she had made a special trip to walgreen's (3 for $1) when they were on there way to gamble in shreveport over thanksgiving. what i did not anticipate (but should have) was that the candy bar was simply serving as a chocolatey messenger:


i later found out that i was the winner because everyone else had received $10. apparently, it pays to be unemployed.

and then it happened (2 hours later than expected, as expected)...
nakedjew arrived just this side of the xmas morning melee. i shed tears of feeling-special-ness as he showed me the gift he had wrapped for me (instead of tossing into a gift bag). it was precious. he likened it to a diaper:



the bow was a crystal ornament for my miniature tree and inside was evidence that, sometimes, NJ actually does pay attention. many months before, i had fawned ridiculously over a pitcher and juice glass set at metro retro. and before my eyes, there was Farmer Tomato: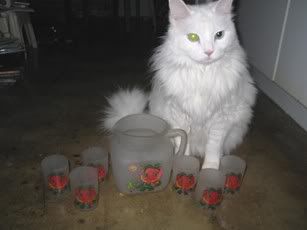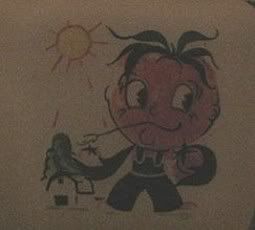 i think it's obvious from the diminutive size of the set, that it would be most ideal for serving up shots of liquor.

the rest of the day was spent brunching and dinnering and finishing my niece's scarf to her specifications (which she later decided needed to be unraveled) and playing trivial pursuit. it wasn't until nighttime was well underway and the family had been sent packing that NJ and i hit the town. and by "hit the town", i mean that we met up with friends at christie's house.

once christie was able to wrangle her in-law's back into their quarters, we settled in to catch up with one another and get sloshed. christian and stephanie were in from belgrade and i learned of the wonder that is brasilia. mark and therese were in from hawaii and i learned more about the wonder that is naval intelligence. barbara was in from afghanistan and i learned of the wonder that is escaping car bombs and suicide killers while attempting to establish a new puppet government. jeromy was in from new mexico, but since he just moved there from san fran, i didn't learn a damned thing from him. i was in from dallas and i learned what a humdrum waste of a life i lead.

the more NJ drank, the more boisterous he became until finally, i was asked if he didn't remind me of darren... a remark i'm certain both of them would appreciate equally. ha! hahahahaha! he officially earned the title "gregarious".