thurs 12/23:
as six months were dawning on the love i share with
nakedjew, i finally reached the wall of xmas. it was time to stop preparing for the yule and pack up my holiday accruals into my car. just for grins, i stopped by the management office for the second time to try and sign my new lease. but since nothing can ever be fixed right the first time around here, it was still jacked up.

i arrived in tyler just in time to find dad standing in front of the fire and gazing lovingly at the xmas tree as carols pounded down from the overhead speakers. even though i had arrived at a more than decent hour, we all managed to not leave the house again for the rest of the night. instead, i poured out phone calls to high school friends back in town and then poured myself down on the couch in front of the tv.

fri 12/24:
as much as i hate to contribute to the corporate belief that employees should be made to work on holidays, i still had two purchases left to make. i made them early and i made them quickly before spending what seemed an eternity finishing up the wrapping process.

as mom and dad seem to be feeling The Spirit a bit less this year than usual, they bypassed their annual xmas gala and only put out a small percentage of the usual decoration fanfare. this included the majority of my mother's nativity collection which i enjoy desecrating with peanuts and candy and trash and Saviour-substitutions.

however, i was still able to perform the chocolate chip test during the afternoon and though it proved joseph to be the devil last year, this year he found redemption as the spirit found it's way into one of the wise men. he who couldn't hold his chips is featured alongside some very angelic camels. note how camel #1 foreshadows the failure of the wise man's test. he is a very wise camel indeed.



pass pass. pass pass pass pass pass pass.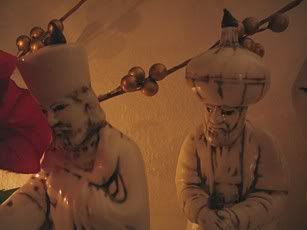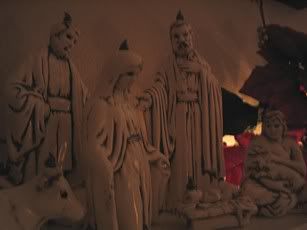 pass pass. FAILED!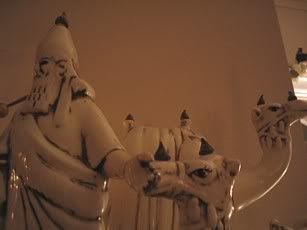 mom got experimental and fashioned the xmas eve vegetarian meatballs out of a new meat analog which i initially mistook as liver while in it's pre-meatball state. then, after my sister's family left for the family-oriented service, the three of us came dangerously close to skipping our service for the first time ever. but i just couldn't let a xmas eve pass without making fire in a church.

feigning an affectation from the chilly night, i scooted quickly past the two sets of outdoor "greeters" that have been added to the church's volunteer work force. their new pastor seemed more fire-and-brimstone than i'm used to seeing in a methodist church as he drove home his point that sweet baby jesus was destined for a life of pain and a death in agony as indicated by the signs surrounding his birth. no matter... i tuned it out all the same. even the catholic-like sit-stand-sit-stand couldn't bring me 'round.