as the holidays wearily trudge on, so do my reasons for feeling my time and my thoughts are overwhelmingly occupied.



reason 10:sat 12/18 – antiques and a very long hibernation

nakedjew and i awoke early so that we could converge, along with darren and lucinda, on dave's apartment before heading to buchanan's antique market at fair park. this go round was much more interesting, in my opinion, than when darren and i went a year and a half ago. i was amazingly reserved and only purchased a fire king milk glass pitcher sporting a cherry branch. it was a steal at 50% off. i said a sorrowful "no" to the old rubber squeaky toy of a bull licking its lips which would have looked absolutely perfect in my glass-fronted box of weird. ah... the woes of unemployment.

i attempted to work through some cramps and work on my script that afternoon while NJ managed to sleep for five hours and incur my wrath when he never woke up to receive my calls about our evening plans. on my way to the angelika to meet the monster for a very long engagement, i dropped by to see if he was alive. he was. and boy howdy was he in trouble.

in my fury, i almost unwittingly rear-ended hank in the parking garage and hank almost unwittingly shook his fist in the air at me. but we both simmered down, watched our movie, and then retired to the god awful margarita ranch for some beers.

reason 11: sun 12/19 – the anti-charlie-brown-xmas-tree forest
after searching on line for a vintage miniature pink tinsel tree (not as easy to find as you might think), i threw in the towel and swung by urban outfitters to pick up a new 3-foot version along with the very last silver tinsel tree in stock. i tried to locate NJ at his home so that i might offer the pink tree as an olive branch AND a xmas present. now that's some double tasking. however, he had been called into work and my surprise was lessened. instead, i called to schedule a time to come by and allowed him to think we were going to be having "a talk". hahaha! talking is for losers. tinsel trees are for winners. i gifted him and then allowed him to go dine at cosmic cafe with me before leaving him to spend the night alone as further penance. but not before we killed one of the cats with the tree. poor kitty.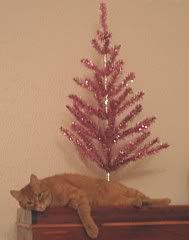 reason 12: mon 12/20 – baking fiasco
after a long, hard day working in my pajamas, i stopped long enough to try once again to destroy a tea bread in the making. i halved each of what seemed like hundreds and hundreds of cranberries one by one. and then i began adding the first five ingredients as instructed by my mother's recipe. i discovered i only had chunky sea salt and spent an eternity grinding out 2 tsps. then i realized my recipe was fuzzy on the addition of the oj and water. i skipped the water and used only oj before panicking at the thought i was making orange juice bread. i began frantically scooping out oj with a measuring cup and replacing it with water. then i decided there needed to be additional liquid and began pouring more water in willy nilly style. i just knew this would be the year i disproved my motto: you just can't fuck up a tea bread. i had tried diligently once before when, after adding half the ingredients, i realized i only had half the amount of required molasses and began crafting the second half out of vegetable oil, sugar, and various pumpkin-pie-type spices. and, just like that gingerbread, the cranberry bread came out like a champ. and i had even tried to fuck it up some more by using an array of baking pans, including an antique mini-cake mold which fashioned the deco-shaped giant cranberry muffin for the beth-darren xmas soiree the following evening.

in order to come off my baking high, i threw back some more of my mom's beers (see forthcoming xmas entry) and watched he loves me, he loves me not with NJ.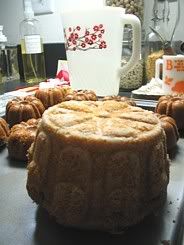 *note the lovely fire king pitcher in the background




reason 13:beth-darren xmas soiree 2004
last year, darren and i began what this year has turned into a tradition. after spending countless days at home, i had begun to feel frumpy and lacking in elegance. as a result, i dusted off a vintage dress, donned a strand of plastic beads from a friend's mardi gras adventure and my halloween 2003 adventure, and slapped on a vintage dress jacket and pair of dead stock gloves before leaving for darren's. our gift exchange last year was graced with virgin attempts at gluehwein and soy nog. this year, we graduated to hot buttered rum ... and i do mean buttered. (the soy nog scalded). i presented darren with our gigantic deco muffin and we lovingly split it and began scarfing down our spread before the crackling flash of camera light. we then cracked open the die mommie die dvd i'd gifted him with and watched a good half of it before i was finally able to pull myself away.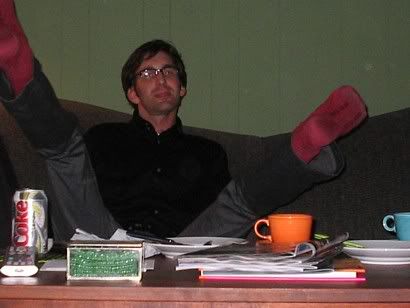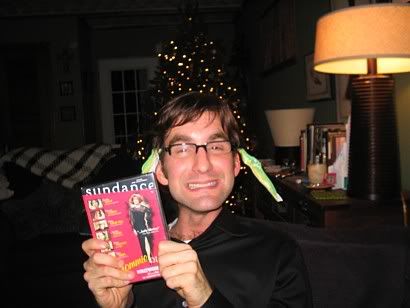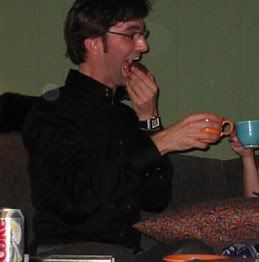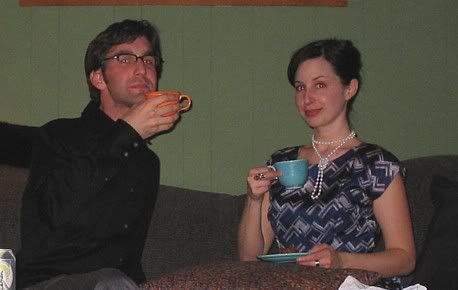 reason 14: wed 12/22 – snow day
large, fluffy flakes began falling early on and carried into the evening. i was delighted to watch them all day from my window as i worked. hesitant to miss out on another tradition normally shared with darren the last two years, i asked NJ to come by with take out from cosmic cafe. and he did. he also brought along a spanish film named butterfly whose dust jacket had promised it had been smattered with accolades. we watched it. we decided all foreign films are smattered with accolades. it sucked. not a single relationship was fostered between characters that would make the viewer give a crap about what happened to them. it was astounding how well this movie missed each and every mark. perhaps that was where the merits had been awarded. run... nay, flee!... from this movie should you get the chance.