how is it that we've had such gorgeous crystal blue skies day after day for what seems like two weeks now? it's because i've been sequestered in the deep, dark indoors for one reason or another. it is my gift to the dfw metroplex citizens this holiday season. it is also the reason for my lack of lj activity.



reason 1: fri 12/10 - dallas chamber orchestra
in spite of many attempts by other drivers to make us late, my deft driving abilities got me, E, and NJ to the episcopal church in richardson in the st. nick of time for the secular "xmas" performance. though we were invited to sing along to an outtake from the messiah, i mostly resisted. i was too busy fending NJ off of my boot zipper. and my skirt. and his "lap". jesus. we were in a church for crissakes. the fact that it was friday night called for drinks at the meridian room. E even "let her hair down" and ordered a second glass of "hickory lane" wine. i couldn't believe my ears.

reason 2: sat 12/11 - santa's coming to town
this was the night i was slotted to be in bedford for the delectable horror that was an ex-co-worker's sex party (sometimes, these things go by the name "True Romance" party, but don't be fooled). at the last minute, i had to bow out and instead, escorted secret santa
nakedjew to amy's house for her work party.

see how secret santa
nakedjew needs a sandwich?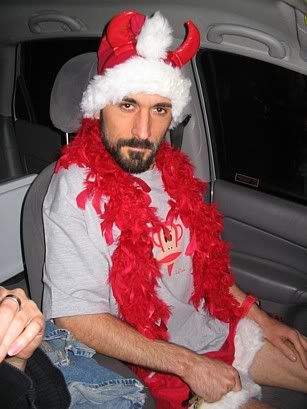 see how secret santa
nakedjew has homosexual tendencies?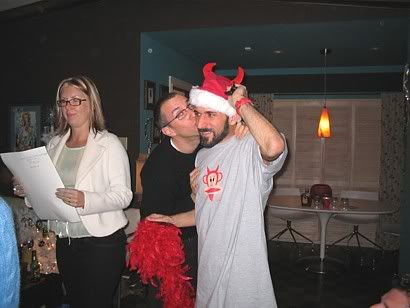 three "wise" "men"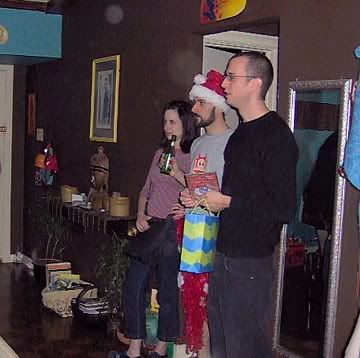 reason 3: sun 12/12 - bring in the clowns
i spent a month stressing about cleaning and 2-3 days actually cleaning for the five minutes that my mother and her friend andy would spend in my apartment sunday afternoon before we lunched at pei wei and headed over to fair park. the big top was up and cirque du soleil's varekai was gearing up for its final show in dallas. it was pretty fucking grand. i discovered we were watching from second tier seats with only four rows between us and the stage. as projectiles began flying and bodies swirled overhead, i had a flashback to the chinese circus where i had sat far back and wondered which audience member would lose their life when something went tragically wrong.

the set and costumes were particularly amazing and acts were a bit less recycled than usual. the "clowns" were a tall, thin, dark fellow accompanied by a squatty girl in a blond wig who had no reservations about flashing her doughy, white thighs to the audience and falling to the floor from her pumps with ankle socks.

no pictures of the circus, but here is the half-eaten apple that was waiting for my mother in the bushes outside my window: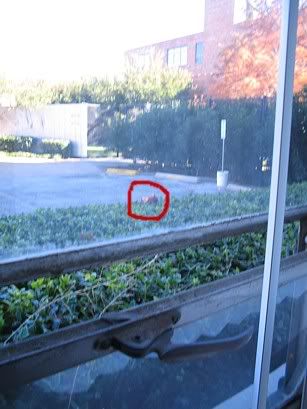 reason 4: mon 12/13 – rat's nest
after a five month hair-cutting hiatus, i could take it no more. i put off chopping it off and went in to see melody for a touch up followed by coffee.

reason 5: tues 12/14 – fry daddy
coffee went so well with melody, i decided i should try it again with
redmalis. we mixed it up a bit by having him drive into dallas and we chatted it up for a couple of hours at the new amsterdam coffeehouse (which, thank god, is also a bar.... hello again coffee with irish cream. it's been far too long.).

reason 6: wed 12/15 – contractual obligations
i came home from coffee to a contract scripting offer from dedee. turns out they were able to bring over some of gms's clients... but not the scripting. randy-the-IT-guy and i spent the entire day just trying to establish connectivity from my home PC (they are based in houston). i wanted to cry. after a day filled with no success, NJ came over and we watched bowling for columbine and drank fancy beers. the reason i have fancy beers is that i've decided to give mom Beers From Around The World for xmas and i "accidentally" bought a couple of six packs instead of just singles so i could "test" the merchandise. i could almost swear we went somewhere beforehand, but i haven't a clue where that might have been. oh... how it all runs together.

reason 7: thur 12/16 – nurse beth
a couple of months ago, a doctor discovered that darren had a severely deviated septum. darren, the crazy fucker that he is, decided to proceed with correcting it and scheduled a nose pithing.

so as aunt flow was rolling into town thursday morning, i was busy testing the limits of modern hygiene products by donning a thin pair of non-cotton pink panties and
nakedjew's vintage WHITE nurse's uniform. i dropped him off at medical city while doctor's were gearing up to ply him with pre-surgery drug cocktails before shaving down his septum and installing tampons in each nostril. this gave me time to finally establish connectivity an hour before returning to sit bedside with a newly nose-fashioned darren. the rest of the evening was spent eating pei wei and pumpkin bread and playing board games. i spent the night to ensure darren didn't collapse his nose and kill himself in his sleep.

nurse beth doubles as a veterinarian: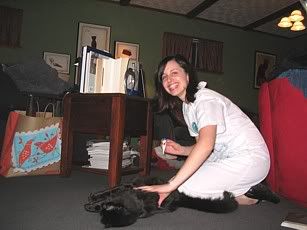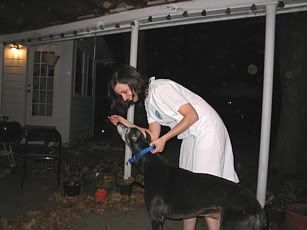 reason 8: fri 12/17 – the follow up and work begins
darren and i visited the doctor so he could scrape a heap of crusty ooze from darren's nose. after several days of heart-palpitating pre-project anxiety, i was then free to begin working on my project.

reason 9: fri 12/17 - santa's coming to town, again
that evening, NJ and i were off to another xmas shindig at lucinda and john's funky little house in oak cliff. they are quite the collector's of interesting tidbits. we drank. we nibbled. we conversed. we went home.

note: one of the infamous "pubic hair heads" can be seen in the background wearing a green santa hat.