after a series of surprise inspections at the home of
nakedjew throughout the week, i felt it was safe for me to leave town. but not before getting up at 3:45am thursday morning to take hank to the airport and then getting 3 hours of sleep before arising at 2:30 friday morning. holy shit i was tired. so tired that i later noted, from the privacy of a stall in a public restroom, that my underpants were on inside out.

i've learned that despite my best efforts to sabotage timely departures, i have developed a remarkable knack for driving notable distances and arriving at a designated location with astounding accuracy. i arrived late by only a small handful of minutes to meet my father in corsicana so we could begin the long journey to shiner, tx (the hill country... seems to be the theme when my father and i travel together). we arrived in plenty of time to make the 11am tour of the spoetzel brewery (at which point, i couldn't help but be reminded just a tad of the Elsinore Brewery).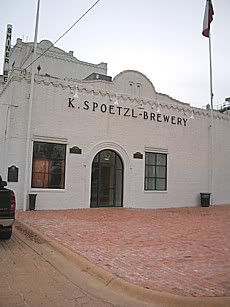 we were with a mother-and-son team hailing from berlin for the pre-tour videography. every time the narrator said "spoetzel", which was obviously often, the german duo would quietly mock "spoetzel". so it's been americanized. get used to it. i tried to safely block my father when, at the completion of the video, he said "isn't it spaetzle that your mother makes sometimes?" i think they also took delight when our tour guide said hefeweizen in her thick texas accent. with an average of 16 years employment, the brewery is obviously a grand place of employment. too bad shiner isn't a better place to live in my estimation.

dad and i visited the gift shop and made sure this will be a shiner xmas. by the time we left, i had used three of my four beer tokens and noted what a fantastic and witty conversationalist i had become. i was on and it wasn't even noon yet as we hit the road for brenham and the blue bell creamery tour.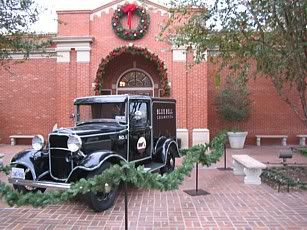 exterior view of the ancient 70's-era creamery



this time, we were grouped with a couple, the male of which would ask ridiculous questions of our young guide like "what rank is pistachio in sales?" our guide explained that the creamery's slogan "we eat all we can and we sell the rest" is actually true. freezers stocked with ice cream and a gift shop with an ice cream counter keep the employees rolling in all the free frozen treats they can handle. dad couldn't help but point out the portly nature of a large percentage of the employees as we watched them through the large plate glass toiling on the line down below. how can people work like that?

by the time we arrived at the b&b, i was operating under the physical stressors of fatigue and a mild hangover. nothing a little cable tv couldn't remedy. and, as my father had originally invited both me and my sister, we each had our own room. i settled in with some a&e crime tv before heading downstairs for our wine (and cheese). i was swimming once again by the time we started walking downtown for dinner at an italian restaurant on the square. we then mustered as much energy as possible to visit a few shops while listening to the blossoming, young cowgirl singing xmas songs and yodeling from the bandstand. thankfully, i was in bed by 9pm.