after getting up and out of nj's at a halfway decent hour, i left for tyler wednesday afternoon. it was the day before my mother's 5629th birthday and the family was taking her out to dinner at el charro. this is where i set out on my personal goal to consume my weight in avocados before a full week could pass. i poured salsa on my plate of guacamole and told my niece it looked like vomit before digging in with my spoon.

then i forced my mother to watch me crochet and confirm i had invented two stitches. she then taught me how to crochet like the masses and also made me realize i had actually been knitting with chopsticks last year. how i managed to pull that crap out of thin air is a mystery to me. i do know that it takes approximately 45 minutes to knit a square measuring 2 x 3 inches. fuck that. before abandoning knitting, i grabbed the largest needles she had and in my best holly golightly impression told anyone foolish enough to listen that i just might be knitting a ranch house.

thursday found me hiding as much as possible from turkey fumes as that poor creature suffered the humility of having its feathers ripped out, extremities removed, and innards bagged and re-inserted up its ass before being left naked in a roasting pan for hours on end. god... and people put that shit in their mouths. grandmother brought avocado slices sprinkled with lemon juice and, as this was not traditional holiday fare, i decided it was my mission to make sure no slice of avocado was discarded in the trash. i'm pretty sure i'm the only one who was engaged on this mission.



mom was anal about place settings and this diagram lived on the inside of one of the cabinets. we kept the diagram when they moved a couple of years back. it somehow seemed fitting for a thanksgiving post.



uncle wayne showed up that evening with the usual gift of lottery tickets for my mother and to help us attempt to consume the TWO birthday cakes god help me. then i struggled to put on pants so i could go to meet darren and april b at the pub and grub god help me. visiting this bar always reinforces my determination to never ever move back to tyler. last time i was there, some of the tv's featured championship hot dog eating. this time, it was a poker championship. so many poker-faced chumps, so little time. i was blessed the following day to stumble across a television program featuring championship eaters and yes... one of the contests was for hot dogs.

i also couldn't resist taking a couple of photos of the photos displayed in the neighboring studio. only in tyler:



and what the hell kind of family configuration is this? three parents?!?



friday was horribly tame and i only escaped the house long enough to meet my sister's family at michael's for some yarn shopping. have i mentioned that i'm 72 years old? that night i went over to visit christie and brian and drink some of christie's combo sloe gin fizz/tom collins. i kicked it up a notch after accidentally taking a swig of my third drink before realizing she hadn't yet added the mixer.

at 11:30 saturday morning, i received a much-anticipated call from
nakedjew informing me that he would not be arriving at my parents house between 11 and 12 because he was just leaving his apartment. and had already gotten lost before even hitting the highway two miles from his home. i told him not to worry... my parents and i would go ahead and begin consuming the dinner my mother had prepared for him consisting of all of his favorite foods. i then offered to put him on the phone with my father to hash out our sleeping arrangements... a conversation which had occurred earlier and i had assumed would be happening with my mother. it went something like this:

dad: do i need to pull the couch out?
me: uh... i don't know. it doesn't matter to me. whatever you want is fine.
dad: well... it doesn't matter to me.
me: uh... you know... whichever.
dad: i could pull it out or he could just sleep on the couch.
me: oh. (this was me realizing the option was to pull out the couch or not... and not pull out the couch or let him sleep in my bed) uh... then go ahead
and pull it out. it's pretty uncomfortable otherwise.
dad: okay. i mean... unless he's sleeping in there with you.
me: uh.. oh.. uh... (trying really hard to not think about my father thinking about me thinking about sex).... whatever you want to do is fine.
dad: well, it doesn't matter to me... i didn't know what the situation is.
me: uh... maybe mom should decide. uh....

so i was obviously tickled pink to "threaten" to put nj on the phone with daddy for that conversation. to bad daddy is deaf in one ear and missed the whole dialogue. at least mom was enjoying the palpable tension. teach somebody to be late.

then i continued watching modern marvels: disastrous technological snafus or something like that. i'll resist talking about the gigantic whirlpool vortex that was created when an oil rig drilled through a lake and into the ceiling of a salt mine.

ugh. mama's got to get up at 2:30 tomorrow morning.
nakedjew visits tyler and gets his ass kicked by my daddy will have to wait until later...



photos...

the fantastic monogrammed potholder i made for mom's bday by unraveling the scarf i wore on election night. i wrote a little letter to wrap it in giving kudos to another four years of bush economics for making my lack of money to purchase gifts possible:



talk about the perfect wrapping paper:



mom's cake overload: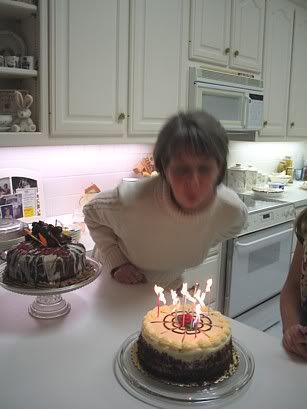 for shits and giggles... it's the kool-aid cooler that we archived in the fridge:



darren and april b at the pub and grub:



some day, i'm going to construct a photo montage showing the progression of insanity indicators as written on my face in various photos. this one will be on the cover (i think i was trying to escape the pub and grub and was concerned that i was being restrained):