on labor day, halfway down my route to work, i veered to the right and hopped on a plane to sunny houston. while dashing through reagan international airport, i saw her approaching from across the terminal with two homos in tow just before all four of us hopped on a plane to sunny mexico.

oh puerto vallarta. you are a beaner-dreamer's dream come true! i spent a glorious five days and four nights alternating between sunning on the beach and dodging the liquid bullets of intermittent thunderstorms all the while with a cocktail in my hand and good friends by my side. stranger still, my parents were but one mile away, lodging at the fiesta americana and simply insisted that i allow them to treat me and my friends to dinner. they had never met my friends, (welll... technically, neither had i) so my collision of worlds became stranger yet. but we all stayed just sober enough for just long enough to keep the happiness flying high. afternoons were spent meandering through quaint alleyways purchasing straw sombreros embroidered with our names and margaritas bigger than our heads. we giggled from the backs of overworked burros, stuffed our faces with guacamole, and haggled with vendors over the cost of cheaply made souvenirs.

it was the lady-of-leisure dream come true. and then i woke up....

here's what really happened:
i pulled myself out of bed at 5:15am this morning and quickly realized the dfw area was being plagued with thunderstorms. i readied myself, finished packing, and darted to my car. after parking in the south lot at dfw airport, i popped open my too-small umbrella and proceeded to be drenched in the near-horizontal downpour as i rolled
nakedjew's luggage to the shuttle pick-up zone.

after arriving at terminal E which houses Continental airlines which was indicated on my paperwork as being the airline to take me to houston, i queued up for the ticket counter. the agent told me to go over to the lady at the kiosk. i went to the lady at the kiosk who eventually looked at me strangely and sent me back to the line for the desk. once reaching an agent again, he said "oh... yes, your paperwork says Continental, but if you look over here it says it's partnered through blobbity blah blah which is Delta. you need to go to the terminal next door.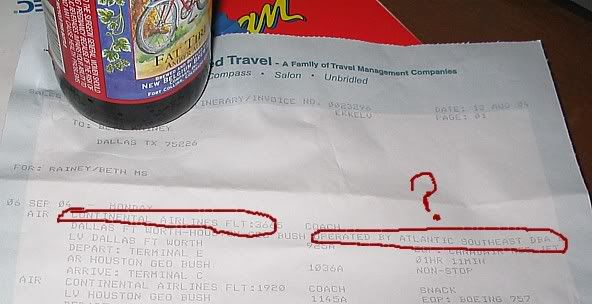 oh shit. well, okay. i go back out in the wind and rain and queue up to use the self check-in. the screen quickly tells me it cannot find my flight. i'm panicking a little by now and get in line to speak with someone. the agent at Delta tells me she cannot find my flight to houston. i begin to panic a little more and begin feeling the urge to cry. i am a poor traveler when there are glitches. she hands me a phone to dial the travel agent who is, of course, out of the office for the holiday.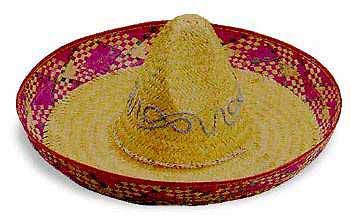 i call the 800 number and wait to talk to someone at the 24-hour service. i finally get patched through and let her talk to the Delta agent for awhile. 24-hour girl (let's call her sam) tries to get a hold of the owner of the travel agency, but to no avail. and then we wait approximately 20 minutes for her to get through to Continental (the hurricane in florida had everything backed up). we get nowhere.

sam calls me back about ten minutes later saying something about a Continental flight leaving in 10 minutes so i begin RUNNING with luggage in tow back to the other terminal. i huff and puff at the agent that i think i'm reserved on that flight as she looks at me like an asshole and informs me there is no way i can get on the flight as it is leaving in five minutes.

sam tells me i'm fucked unless i want to begin the ticketing from scratch and likely pay a large sum in addition to that which i've already shelled out for my MEXICO VACATION. sam is spent. she tells me i'll have to contact the travel agent tomorrow so they can likely tell me they are keeping my money while i sit in dallas and not ON A BEACH IN MEXICO.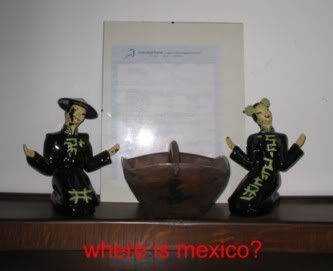 sorry
denverbettie. sorry
fagaroni. sorry
fagaroni's friend. let me know if canto del sol plaza tried to charge you more for the room and i will gladly tell them to crawl up my ass with everyone else who is already up there.


ps: uh yeah. you read that right. i was supposed to fucking meet
denverbettie in mexico damnit. alright. bright side: my liver will thank me later.