wednesday, august 4th, 2004. birthday 32.

i began the day with deception. i never told NakedJew that it was my birthday. but i had put him on call for the evening after receiving an email from darren stating he might be out of town that night and could i dogsit. ouch.

that's not completely true... i did once tell NJ the date of my birthday. i only mention this because he has been relentless in his disdain for my omission. so now i bite back. i was pretty hurt that he would forget such a special special day for me. i suppose you can see why it was hard for me to have to REMIND HIM that it was MY BIRTHDAY. i can't tell you how much i cried. but anyway...

i received a phone call at work that morning from my mother followed shortly by an arrangement of gerber daisies. there was the fair smattering of e-cards and telephone messages. the day went well enough and i skittled home to prepare for the perfectly planned three tiered birthday wave of attack, which i shall enumerate for you now:

1) darren was slotted to arrive for the first shift at precisely 6:40pm, which means darren would arrive no earlier than 6:45pm. this worked well for both of us as darren dislikes giving gifts in front of others and i dislike receiving them in front of anyone.

2) evelyn was slotted to arrive promptly at 7pm. she could then proceed to wish me all the best. i also knew that once darren ran late, we would still have this cushion with which to complete our birthday-related tasks.

3) NakedJew was slotted to arrive promptly at 7:15pm, no earlier ... no later. and certainly none the wiser of my imminent trickery.

it was perfect.

darren arrived promptly at 6:50pm so that i could tear my way through a ridiculously tall tower of gifts that prevented him from being able to even enter the front door of his own accord. there was no time to read the card.

evelyn decided not to show up and preferred to meet us at the restaurant instead. this is obviously the weakest link in my plan.

NJ showed up at precisely 7:00pm where i dallied with the idea of letting him languish on the stoop as punishment. but i didn't.

the birthday debris had been cleared out with barely a second to spare. spinning webs is awfully difficult work.

we headed over to a restaurant i loathe to eat at very often: cosmic cafe. since i refuse to put all the paraphernalia from my last job back in the trunk until i've replaced my spare tire yet again, darren occupied himself in the back seat fashioning a piecemeal cafe presided over by a lovely photo of ttyki.

evelyn arrived shortly after us with a photo album and a birthday greeting. i could see NJ was beginning to catch on with a string of "uh.. is today... wait.. is this your... ", and i made sure to not allow him to speak in full sentences in order to win for a little longer. i thought maybe he would forget or get too hungry for dinner or get really drunk all of a sudden. but he persevered. jews are like that. the truth came out in an ugly, tumbling mess and NJ got all teary-eyed and ran to the bathroom. jews might persevere, but they're not particularly composed.

we finished dinner in angry silence and split up for our next destination so that NJ could berate me and feign some more sensitivity without the presence of others. what a titty baby. or maybe that's when i called him a nancy bitch i forget because we were about to start drinking a lot of alcohol.

i noticed E and darren taking a "shortcut" to the xpo lounge and i took this as a challenge to beat them there. which we did. because it was my birthday and i'm apparently always right. after about 10 minutes, i remembered how neither of them knew how to get to the secret location containing the xpo so i called them and offered them directional assistance. what sorry competition.

eventually, a scruffy dj showed up with a very fluffy, fat puppy and began spinning some 70's tunes as we consumed beer after beer. i cut myself off eventually in an unusual show of restraint just before i began stealing NJ's beers. but i wasn't completely selfish... we began playing this game called "Evelyn's Magically Replenishing Beer". she bought into it for awhile... or at least patronized us for awhile... but refused the final and shining installment of Magic Beer which was delicately infused with Vodka with a Twist. good timing on her part, i suppose.

i was pleased that hank was able to make it out for one final beer after completing his shift. and i was beyond impressed with E's perseverance throughout the entire evening. and she's so not jewish, she's german.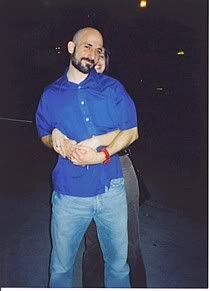 if anyone ever has the opportunity to converse with NakedJew, don't let him fool you. he really is a NakedJew and i actually had to force him to be clothed for the sake of propriety of this photograph. it's true. just so you know. just in case.